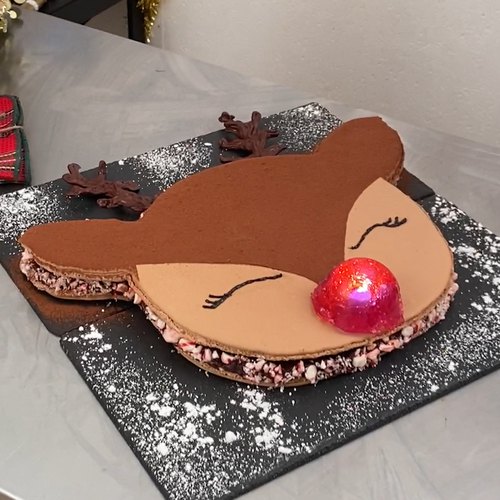 Rudolph the Red-nosed Cake
Has a very shiny nose— like a light bulb! 🦌💡🎄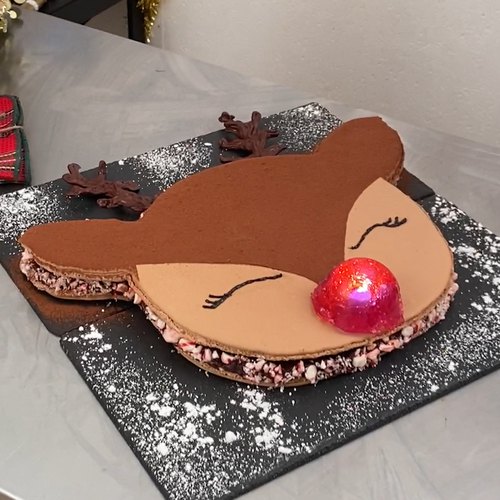 ---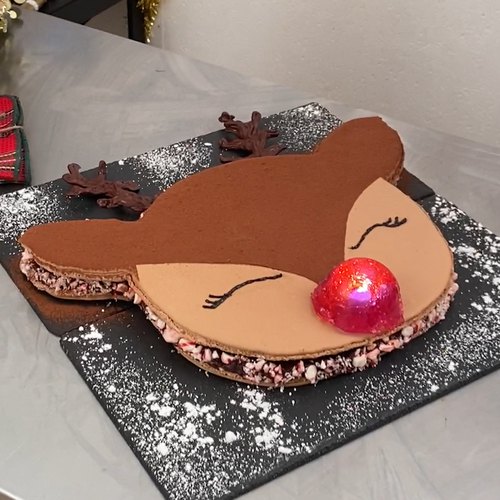 ---
Ingredients for 8 people
1 1/2 cups of almond powder
1 1/2 cups of powdered sugar
egg whites
1/2 cup of water
1/2 cup of sugar
1 cup of heavy whipping cream
3 cups of dark chocolate
8 red jolly ranchers
ice water
cocoa powder
candy canes
1/4 cup of melted white chocolate
black food coloring
---
Tools
Small bowl
Piping bag
Parchment paper
Flameless candy
---
Step 1/5
Sift together the almond meal, cocoa powder, and powdered sugar. Add 1/4 cup of egg whites and mix. Set aside. In a pan, boil the water and the sugar. Cook to 244 °F. Whisk 1/4 cups of egg whites until soft peaks form, slowly add the syrup while whipping. Whip until until the whites are thick and shiny. Gently add the whipped egg whites to the almond mixture and mix until all incorporated. Fill a piping bag with the macaron mixture. Draw 2 large circles with ears on parchment paper. Pipe the macarons on the drawing and let rest for 30 minutes until the top is dry. Bake for 20 minutes at 300 °F. Let cool.
Step 2/5
Boil the heavy cream and pour over 2 cups of dark chocolate. Whisk, then put the ganache in a piping bag.
Step 3/5
Place the jolly ranchers on a lined baking sheet and bake for 5 minutes at 350 °F. Once cool enough to touch place the melted Jolly Ranchers in a small bowl. Let cool.
Step 4/5
Melt 1 cup of dark chocolate and place in a piping bag. In a bowl of ice water, pipe the antlers. Set aside.
Step 5/5
Pipe chocolate ganache on the bottom macaron and sprinkle with crushed candy canes. Place the second macaron on top. Place the antlers on top in the ganache. Using a cardboard cutout, sprinkle cocoa powder on the ears and in the center of the face. Place a flameless candle where the nose will be and place the Jolly Rancher nose on top. Place a dot of white chocolate on the nose to make it "shine". Mix black food coloring with the remaining white chocolate. Pipe the eyes with black chocolate. Enjoy!