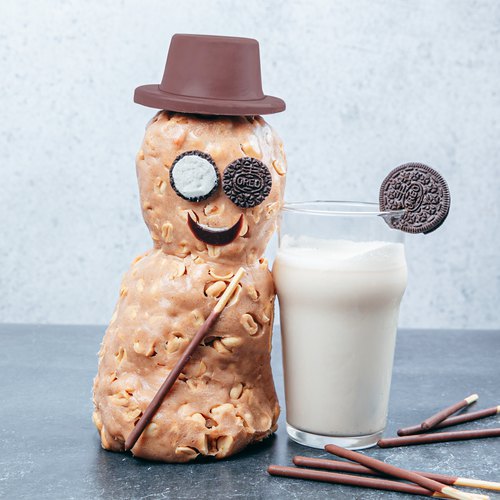 Mr. Peanut's Payday
Mr. Peanut's Payday! Rediscover your favorite candy bar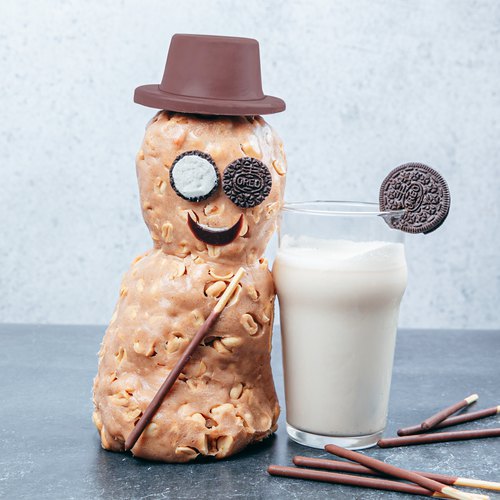 ---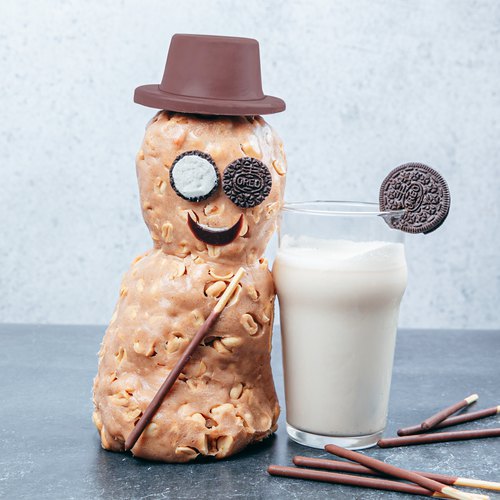 ---
Total time: 1 hour 20 minutes
Prep time: 20 minutes, Rest time: 1 hour
Ingredients for 6 people
Pound cake
Dark chocolate
Vanilla pudding
Peanuts
Butter
Peanut butter chips
Condensed milk
Marshmallows
Frosting
Oreos
Pocky
Milk
---
Tools
Skewers
Mini muffin tray
Muffin tin
---
Step 1/4
Melt dark chocolate and pour it into two holes of a muffin tray. After that, place the tray face down on a metal rack and keep it in the freezer until it sets. Then, melt one of the chocolate shells on a hot pot and use it to create a top hat shape by placing it on top of the other chocolate shell.
Step 2/4
In a mini muffin tin, put a small piece of pound cake, then add a layer of vanilla pudding, another layer of cake, and another layer of pudding. Fold the silicone mold and use a clothespin to secure it, then put it in the freezer to set. Next, skewer the pound cake and dip it in melted chocolate. Set it aside.
Step 3/4
Combine butter, peanut butter chips, marshmallows, condensed milk, and peanuts in a pan. Heat the mixture until the marshmallows are melted. Spread some additional peanuts on a silicone mat and pour the mixture onto them. Take the skewers out of the pound cake and shape the peanut-marshmallow mixture around the three pieces of cake to form the body of Mr. Peanut.
Step 4/4
Apply some frosting on the face of Mr. Peanut and use an opened Oreo to make the eyes. Create the mouth using chocolate and use a Pocky stick as a cane. Stand Mr. Peanut upright and put the top hat on his head. Serve with a glass of milk and enjoy!