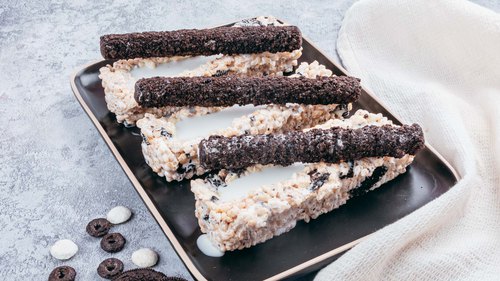 Oreo Rice Krispies Treats
Oreo Rice Krispies Treats! Go on, treat yourself 😘🍪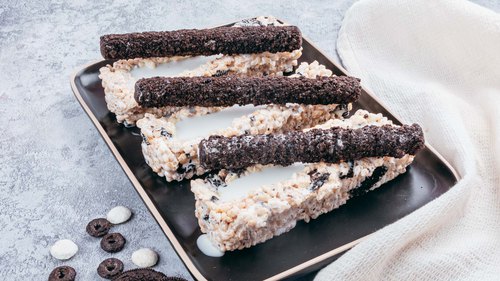 ---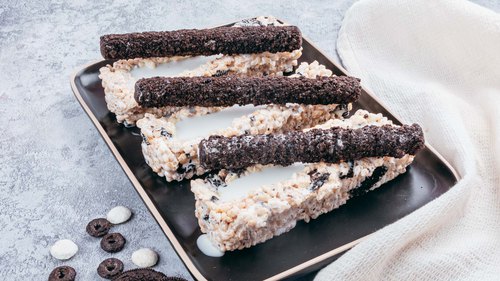 ---
Total time: 1 hour
Cook time: 1 hour
Ingredients for 3 people
3 cups of rice krispies
1 1/2 oreos
2 cups of marshmallows
3 tbsp of butter
1/2 cup of oreo cereal
1 cup of milk
1/4 tbsp of melted white chocolate
6 mini marshmallows
---
Tools
Skewers
Pastry brush
Aluminum foil
Oreo box
---
Step 1/3
In a large bowl mix together the rice krispies cereal and the 4 crushed oreos. Reserve. In a microwave safe bowl place the marshmallows and the butter. Heat 1 minute at a time until the butter is melted and the marshmallows have softened. Pour over the rice krispies and oreos. Stir to combine. Pour into the 3 compartments in the oreo packaging. Press a piece of rolled up aluminum foil into the center of the rice krispies treats. Chill or leave at room temperature to set. Remove the aluminum foil and brush the interior part of the rice krispie treat with melted white chocolate.
Step 2/3
On the end of a skewer, place one marshmallow. Thread the oreo cereal onto the skewer. Use a small marshmallow as a stopper to keep the cereal close together. Roll the skewer in melted white chocolate followed by crushed oreos. Remove the skewers in order to create straws. Set aside.
Step 3/3
In a bowl add the oreo cereal and milk. Allow to soak. Pour the oreo milk into the white chocolate indentations. Serve the rice krispies with the oreo straws. Enjoy!