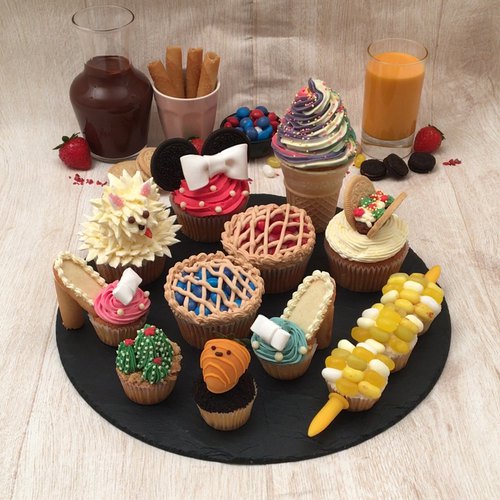 9 Cute Cupcake Hacks
Frost your heart out! 👠🌮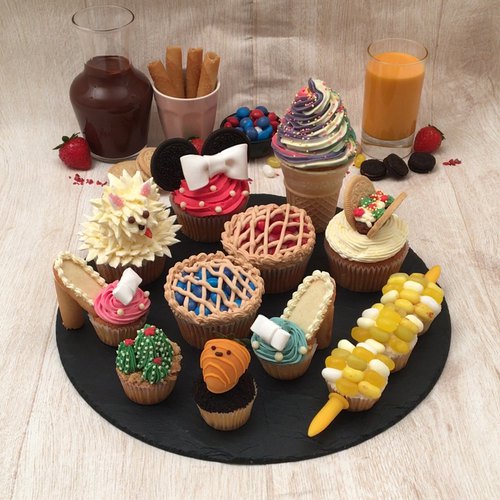 ---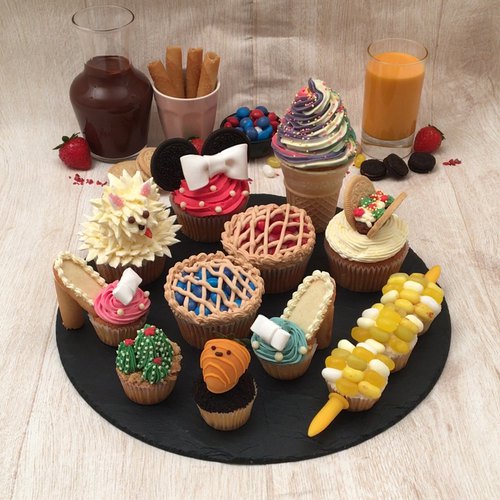 ---
Ingredients for 8 people
mini cupcakes
pink frosting
blue frosting
fondant bows
milano cookies
pirouette cookies
sprinkles
white chocolate, melted
standard-size cupcakes
white frosting
mini-marshmallows
sanding sugar
candy
black frosting
oreos
orange candy melts
strawberries
dark chocolate, melted
skittles, blue and red
jelly beans, yellow and white
red frosting
golden oreos
chocolate frosting
green frosting
graham crackers
ice cream cones
---
Tools
Piping bags
Corn on the cob holders
---
Step 1/9
Stiletto Cupcakes: Insert a Milano cookie into a mini-cupcake at an angle and use melted white chocolate to attach a piece of pirouette to form a heel. Decorate with colorful icing, fondant bows, and sprinkles. Enjoy!
Step 2/9
Pupcakes: Cover a mini-cupcake and a normal cupcake with white buttercream frosting. Fill a piping bag with the frosting and pipe long spikes around the cupcakes. Place mini-marshmallows in the center of the mini-cupcake and cover with more spikes of frosting. Place the mini-cupcake on top of the larger cupcake. Use pieces of mini-marshmallow and sanding sugar to create ears, and use sprinkles and candy for the eyes, nose, and tongue. Enjoy!
Step 3/9
Carrot Cupcakes: Ice a mini-cupcake with black buttercream frosting. Remove the cream from Oreos and crush them. Dip the cupcake in the Oreo crumbs. Dip a strawberry in melted orange candy melts. Let cool and use a piping bag to drizzle more melted orange candy on the strawberry. Use another piping bag to draw the carrot's face with melted dark chocolate. Place the strawberry on top of the cupcake and enjoy!
Step 4/9
Mini Pie Cupcakes: Ice cupcakes with chocolate frosting and cover with blue or red skittles. Use a piping bag to draw the pie crust and lattice pattern on top of the skittles. Enjoy!
Step 5/9
Corn on the Cob Cupcakes: Cover a few mini-cupcakes with white frosting. Stick yellow and white jelly beans in the frosting and arrange the cupcakes together in a row. Stick corn on the cob holders on each end of the row and enjoy!
Step 6/9
Mini Mouse Cupcakes: Top cupcake with red frosting and insert 2 Oreo halves as ears. Decorate with fondant bows and sprinkles. Enjoy!
Step 7/9
Taco Cupcakes: Cover cupcakes with white frosting and insert 2 golden oreo halves on top. Use chocolate, white, green, and red frosting to create the taco fillings, and garnish with sprinkles. Enjoy!
Step 8/9
Cactus Cupcakes: Frost cupcakes with chocolate frosting, then dip them in crushed graham crackers. Use a piping bag with green frosting to create a cactus on top of the cupcake. Decorate by adding flowers and spikes with red and white frosting. Enjoy!
Step 9/9
Cupcake Cones: Bake cupcakes inside ice cream cones. Once cooled, combine a few colors of icing in a piping bag and top the cupcakes with a tall swirl of rainbow frosting. Decorate with sprinkles and enjoy!