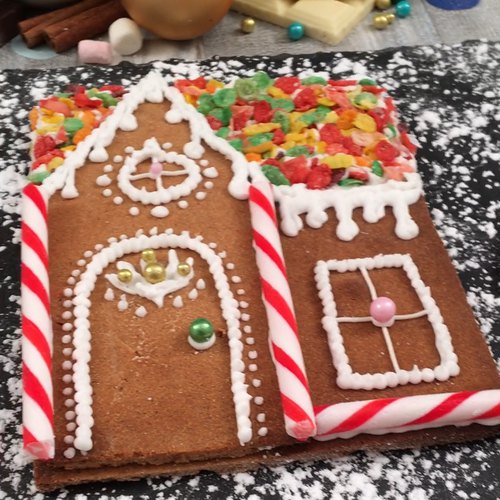 Recipe
8 Christmas Cookie Hacks
Santa's gonna have a hard time picking a favorite!
Christmas tree brownies: Cut brownies into triangles, top with green royal icing, decorate with sprinkles and place a candy cane in the long short end to make a tree. Enjoy!

Hot Chocolate Cookie Cups: Using pre-made sugar cookie dough, roll it into balls, place the ball on a parchment paper round and then inside an oven-safe glass. Push down the center with a smaller oven-safe glass and then bake at 350 °F for 15 minutes, let cool remove from the cups and fill with melted chocolate. Swirl the chocolate around so that it coats the inside of the cookie and pour out the excess. Let harden. Meanwhile, break candy canes so that just the hook is intact, dip in chocolate and stick to the side of the class. Let harden. Warm up hot chocolate and then pour into the cookies, once chocolate is hardened. Top with whipped cream and sprinkles, enjoy immediately.

Easy Gingerbread House: Cut out squares of gingerbread, and then a rectangule of the same height. cut the edges of the retangle off to create a roof shape. Repeat with your dough until all is used. Bake each "house" for 15 minutes at 350 °F. Using royal icing, outline the gingerbread roof and fill in then cover with cereal. Use royal icing to pipe on other details (snow peaked roof, door, windows, etc.) then add candies and sprinkles for accents. Enjoy!

Sugar Cookie Cereal: Place sugar cookie dough on top of a square-holed drying rack. Roll over drying rack so small square cookies fall through the holes. Bake the cookies for 10 minutes, then, once cooled, set aside until breakfast on Christmas morning. Place in a bowl, cover with milk, and enjoy eating cookies for breakfast!

Peanut Butter Cookie Bites: Roll out sugar cookie dough, using a lego to make even cuts, make imprints on the dough. Cut the dough into squares, cover one half in peanut butter then place another cookie on top. Bake for 15 minutes at 350 °F, once cooled dip in melted milk chocolate and decorate with sprinkles.

Using a craft knife, cut the bottom out of an empty can of Pringles. Wash and dry the inside of the can. Remove the plastic top and cut out a design of your choice, fill with spritz cookie dough, place the bottom of the tube back in and then push the dough through with a rolling pin, using a knife, cut the dough off to make cookies. Bake for 15 minutes at 350 °F, let cool then decorate with colored sanding sugar. Enjoy!
It's ready!
SIGN UP
FOR FREE
TO SEE THE RECIPE
Discover the Chefclub cookbooks
More Chefclub recipes
Find Chefclub's top recipes in our best-of collection boxed set. These books compile our most-liked recipes from the community with tons of photos, set-by-step instructions, and kitchen tips! With these books you'll be able to create easy and tasty original recipes for any moment.
DISCOVER THE BOOK