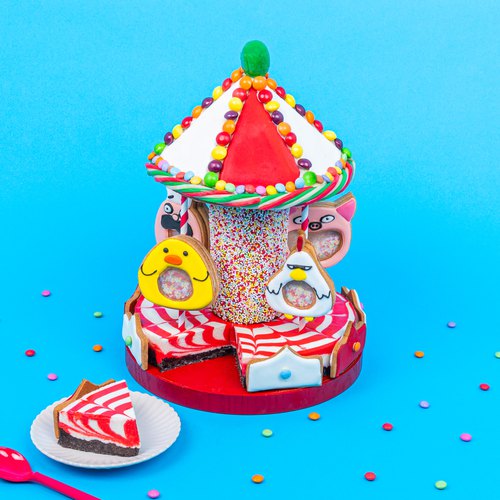 Cookie Merry-Go-Round
Cookie Merry-Go-Round! A cheerful new dessert 🍬😃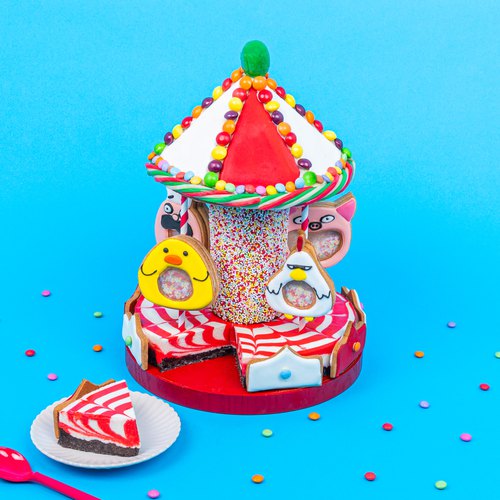 ---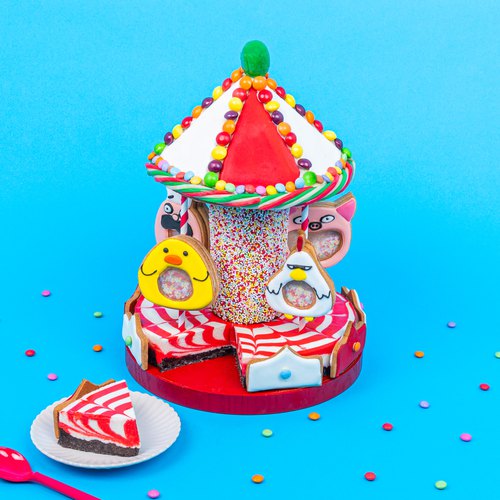 ---
Total time: 1 hour
Prep time: 15 minutes, Cook time: 15 minutes, Rest time: 30 minutes
Ingredients for 6 people
1 3/4 cups of butter
4 egg
Isomalt
9 oz of chocolate
1.3 cups of sugar
2 1/2 cups of flour
7 oz of oreos
22 oz of cream cheese
4/5 cup of sour cream
Candy canes
0.2 cup of heavy cream
1.3 cups of condensed milk
4 gelatin sheets
4 tbsp of lemon juice
Red food coloring
Royal icing
Sprinkles
---
Step 1/5
Make the short crust pastry by mixing 2/3 cup of butter with 2/3 cup of sugar. Add a whole egg then 2 cups of flour. Mix until smooth. Refrigerate for 30 minutes and roll out on the work surface.
Step 2/5
For each character, cut out a shape and 2 with a cutout in the center. In a cut cookie, add a spoonful of isomalt. Cut triangles to create the top of the merry-go-round. Bake the cookies for 15 minutes at 320°F.
Step 3/5
Make the cheesecake by mixing the oreos with 0.4 cup of butter. Line the mold. Whip the cream cheese with the sour cream, heavy cream and condensed milk. Soften 4 sheets of gelatin and melt them with the lemon juice. Add to the mixture and pour into the mold. Dye part of the cream with red food coloring to create a marbled effect. Allow to cool overnight.
Step 4/5
Make a tube for the center of the merry-go-round with the short crust pastry. Roll the dough around a tall glass. Mix the melted chocolate, remaining butter, sugar, eggs and flour to create a brownie batter. Pour into the tall glass and bake until done.
Step 5/5
Fill the characters with sprinkles and sandwich together. Decorate the cookies with royal icing. Place the characters on the candy canes. Assemble the different elements to create the merry-go-round. Serve and enjoy!