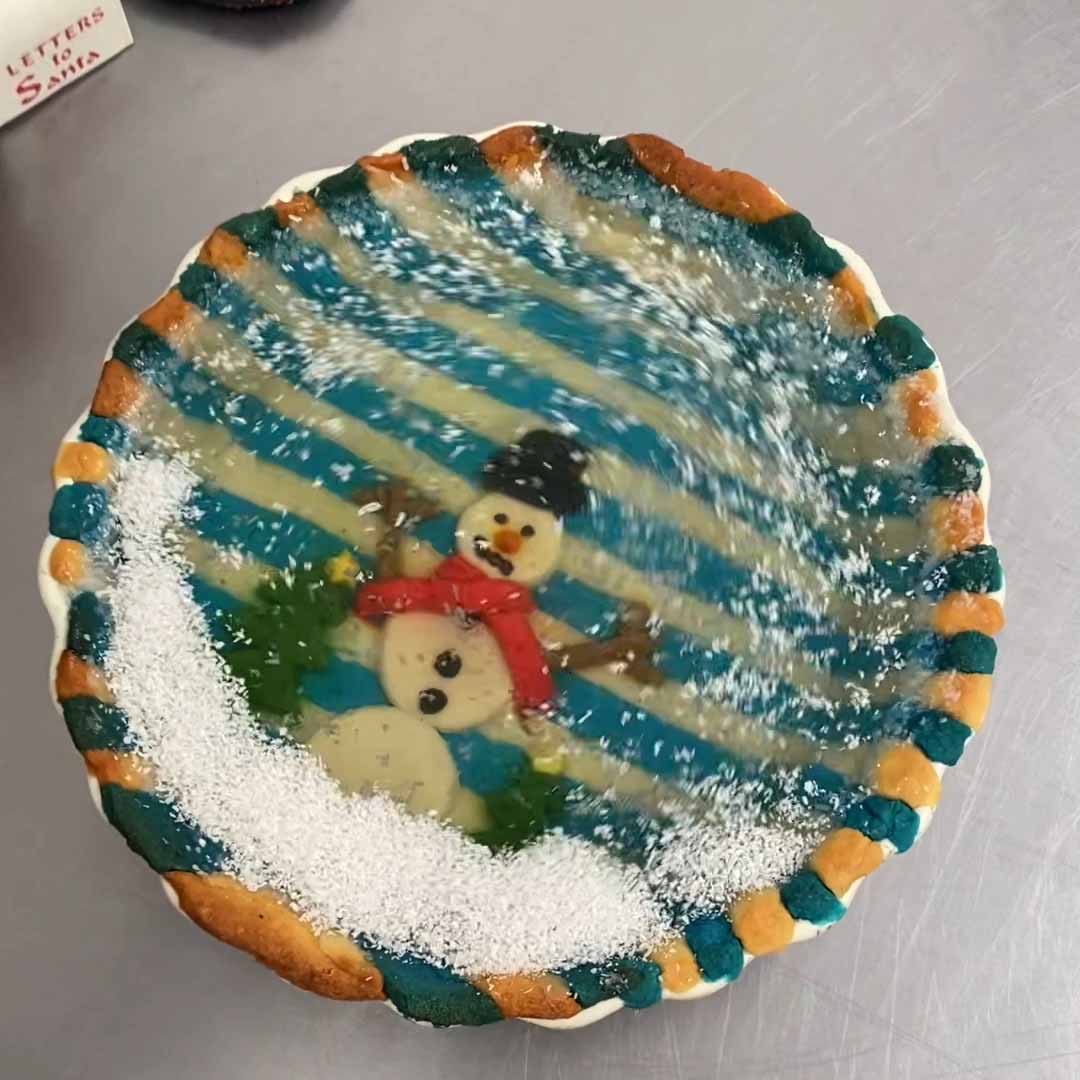 See-through Snow Globe Pie
The best part of the holidays is clearly, the desserts!
---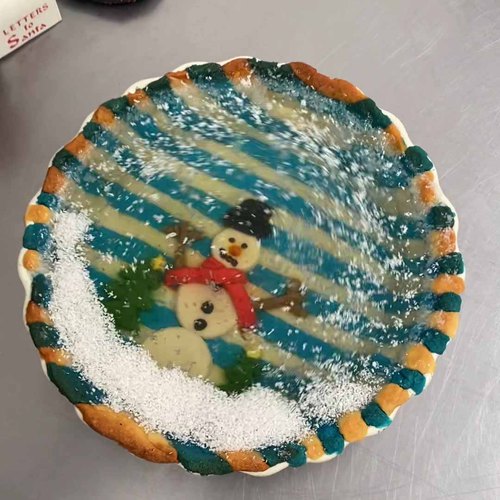 ---
Total time: 40 minutes
Ingredients for 6 people
3 cups flour
2 teaspoons salt
1/2 cup ground almonds
1 cup powdered sugar
1 1/4 cups diced butter
2 eggs
Blue food coloring
Red food coloring
Black food coloring
Brown food coloring
Sprinkles
2 cups sugar
5 cups water
15 soaked gelatin sheets
1 teaspoon salt
2 teaspoons citric acid
2 teaspoons lemon extract
Shredded coconut
---
Tools
Parchment paper
Rolling pin
Pie dish
Foil
Strainer
---
Step 1/5
Make the dough by mixing together the flour, salt, ground almonds, and powdered sugar. Add diced butter and mix together until you achieve a sandy texture. Add the eggs and mix until the dough forms. Separate the dough into two parts and color one blue with the blue food coloring. Chill.
Step 2/5
On parchment paper sprinkled with flour, roll out the plain dough into a giant rectangle and let chill. Then roll out the blue dough into a large rectangle and let chill. Remove both of the doughs from the fridge and cut into long vertical strips. Alternating colors, line up the strips and cover them with a piece of parchment paper before rolling them out again. Let chill. Then flip the dough upside down over a pie dish and press into the pie dish and let freeze. Next, cover with foil and bake at 325° F for 20 minutes.
Step 3/5
With the leftover dough and food coloring, make a snowman and trees. Then decorate and let chill. Once the pie crust comes out of the oven, place the tree and snowman inside. Cover the pie with the foil again and bake for 10 minutes. Let cool.
Step 4/5
For the filling, heat up the sugar and water in a sauce pan just until the sugar is dissolved. Remove from heat and add the citric acid, lemon extract, gelatin, and salt. Whisk until the gelatin is fully dissolved. Let cool.
Step 5/5
Lastly, sprinkle coconut on the bottom of the pie. Then slowly pour the filling through a strainer into the pie. Chill for 5 hours or until set. Decorate with shredded coconut at the bottom of the pie and enjoy!