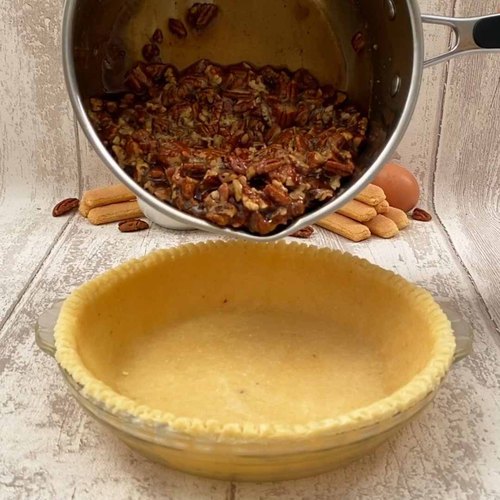 Mile High Pecan Pie
No whipped cream needed, this bad boy has it built in! ❤️✨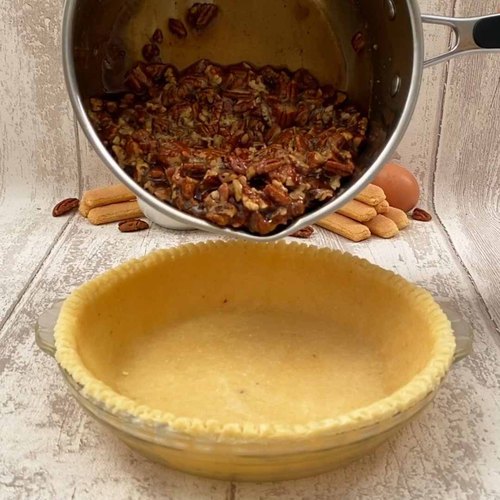 ---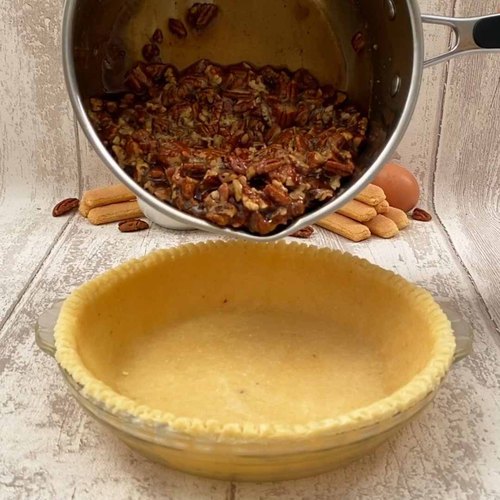 ---
Ingredients for 4 people
3 cups of plus 6 tbsp sugar, divided
1/2 cup of plus 3/4 cup light corn syrup, divided
1 cup of water
cooking spray
1/2 cup of butter
1 cup of brown sugar
3 eggs
2 tsp of vanilla extract
pecans
3 egg yokes
2 cups of mascarpone cheese
3 egg whites, whipped
lady finger cookies
coffee
pie crust
---
Tools
Fork
Pie dish
Mixing bowls
---
Step 1/7
In a saucepan over medium heat mix together 3 cups of sugar, water, and 1/2 cup of corn syrup. When measuring the corn syrup, grease the measuring cup first to prefect the corn syrup from sticking. Heat until the mixture boils.
Step 2/7
Use cooking spray to grease the bottom side of an upside-down bowl. Use a fork to drizzle the caramel over the greased bowl. While the caramel is still sticky, place a few pecans on the bottom of the bowl, then drizzle with more caramel.
Step 3/7
In a medium saucepan over medium heat, melt together the brown sugar, butter, and remaining corn syrup. Remove from heat, then mix in the eggs and vanilla. Mix in 1 1/2 cups of chopped pecans.
Step 4/7
Place a pie crust in a pie dish. Pour in the pecan pie mixture. Top with pecans, then bake for 50 minutes at 350 °F.
Step 5/7
Place a mixing bowl over a pot of boiling water to create a double boiler. In the mixing bowl, mix the egg yokes and remaining sugar until a cream forms. Remove from heat and fold in the mascarpone cheese. Use a whisk to create a smooth mixture. Gently fold in the whipped egg whites.
Step 6/7
Dip the lady finger cookies into the coffee. Cover a lined mixing bowl with the cookies. Place a layer of the cream followed by another layer of cookies. Repeat until the bowl is full. Let chill.
Step 7/7
Flip the lady finger and mousse dome onto a cooled pecan pie. Cover with the caramel cage and Enjoy!