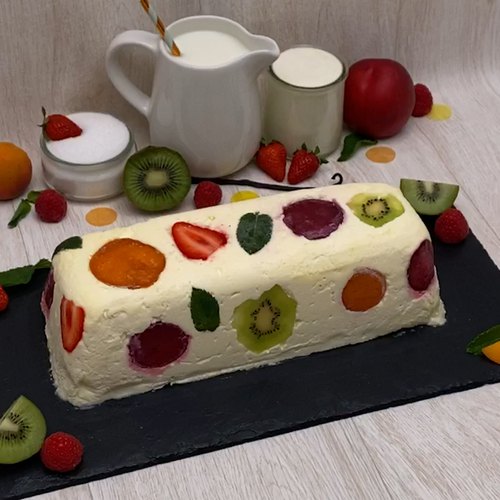 Frozen Panna Cotta
Ice, ice, baby! 😆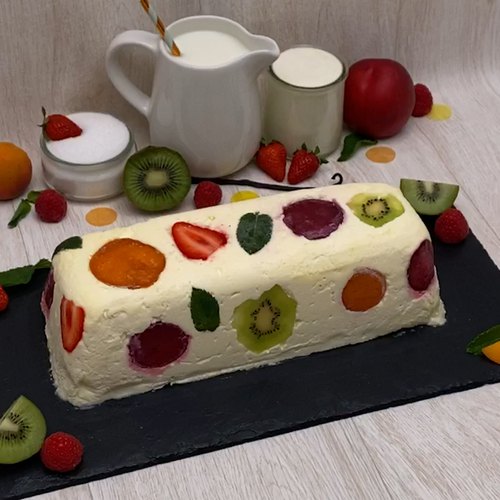 ---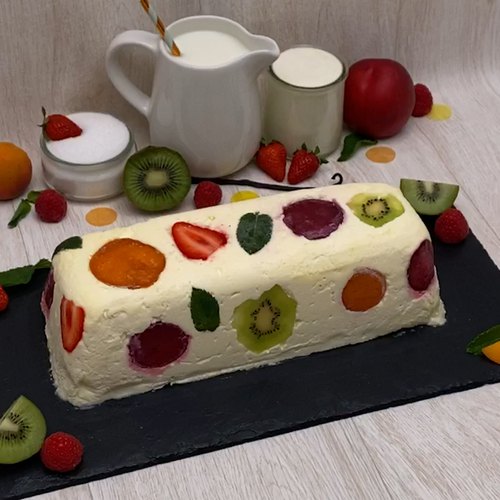 ---
Ingredients for 4 people
2 1/2 cups of heavy whipping cream
2 tbsp of sugar
2 sheets of gelatin
vanilla bean, scraped
strawberry jam
strawberries, sliced
kiwis, sliced
apricots, sliced
plums, sliced
mint leaves
8 oz of mascarpone cheese
7 tbsp of powdered sugar
1 cup of greek yogurt
strawberry coulis
---
Tools
Tall glass
Loaf pan
Electric mixer
Plastic wrap
Mixing bowl
---
Step 1/3
Prepare a panna cotta mixture by mixing together 1 cup of heavy whipping cream, vanilla, sugar, and gelatin in a small saucepan over medium heat. When combined, stir in jam. Pour the mixture into the tall glass, filling the glass 3/4 full, then freeze for 30 minutes. Using the handle of a wooden spoon create a hole and fill it with strawberry coulis, then fill the glass with the remaining panna cotta mixture. Place in the freezer again for 30 minutes.
Step 2/3
Line the loaf pan with plastic wrap. Place the fruit slices and mint leaves around the plastic. In a mixing bowl, whip together mascarpone cheese, powdered sugar, yogurt, and remaining heavy whipping cream until whipped cream is formed. Place half of the whipped cream in the loaf pan. Unmold the strawberry panna cotta by placing the glass in hot water until the panna cotta slips out. Place the tube of panna cotta on top of the whipped cream. Fill in the rest of the loaf pan with the remaining whipped cream. Freeze for 1 hour. When solid, remove from loaf pan and plastic.
Step 3/3
Cut a slice and enjoy!