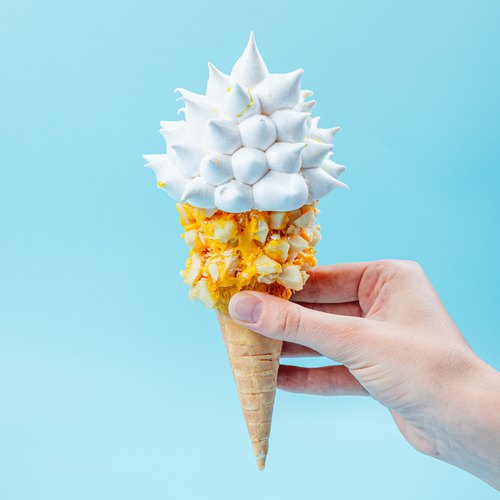 Lemon Meringue Cone
Lemon Meringue Cone! A refreshing afternoon sweet 😉🍦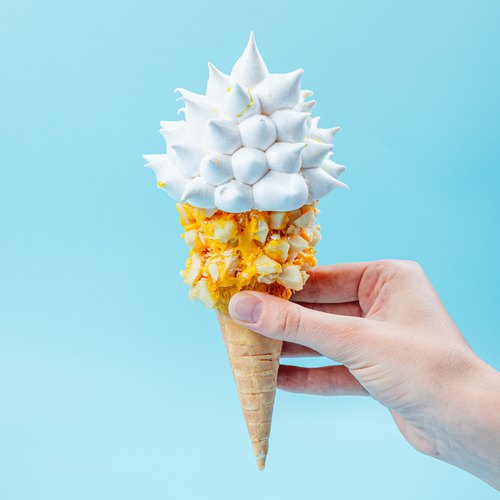 ---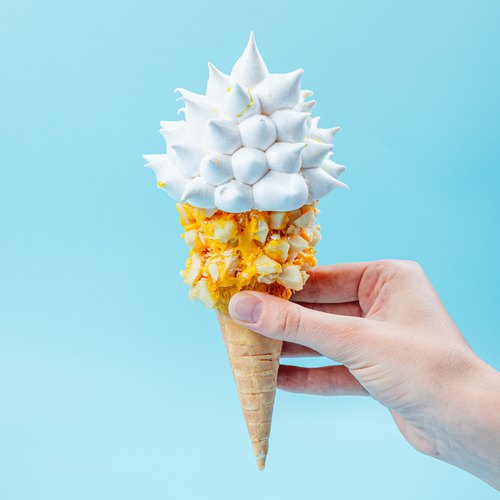 ---
Total time: 4 hours 40 minutes
Prep time: 40 minutes, Cook time: 1 hour , Rest time: 3 hours
Ingredients for 3 people
3 ice cream cones
3 1/2 oz of white chocolate
15 macadamia nuts
Yellow food coloring
1 cup of powdered sugar
3 egg whites
3 lemons
3 tbsp of coconut milk
0.4 cup of maple syrup
---
Tools
Piping bag
---
Step 1/3
Melt the white chocolate, add the yellow food coloring and mix. Dip the end of the ice cream cones in the colored chocolate, sprinkle the chocolate part with macadamia nuts and set aside.
Step 2/3
Heat 0.2 cups of water with the powdered sugar to 240°F. Pour the preparation over the egg whites then mix until you obtain a smooth texture. Place it in a piping bag. Cut 2 lemons in half, core the lemons, place them on a baking sheet, pipe dots of meringue on each half-lemon and bake for 1 hour at 190°C. Reserve the lemons for 1 hour in the freezer.
Step 3/3
Place the frozen lemons in a blender, add the coconut milk, maple syrup and blend until smooth. Pour the lemon sorbet onto a plate, add lemon slices and set aside for 2 hours in the freezer. Unmold the meringues from the lemons. Garnish the cones with the lemon sorbet, arrange the meringue on top, grate a lemon zest and enjoy!