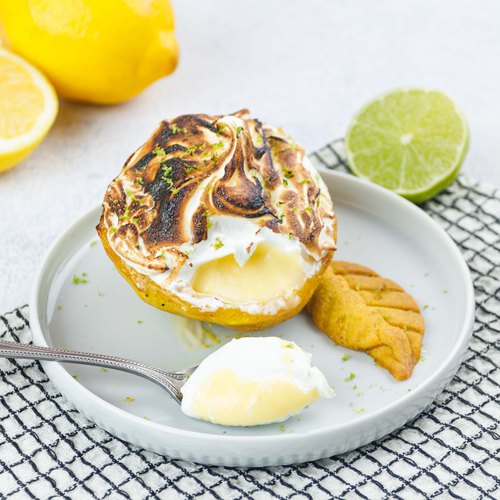 Citrusy Lemon Tart
Citrusy Lemon Tart! This recipe is simply the zest 😏🍋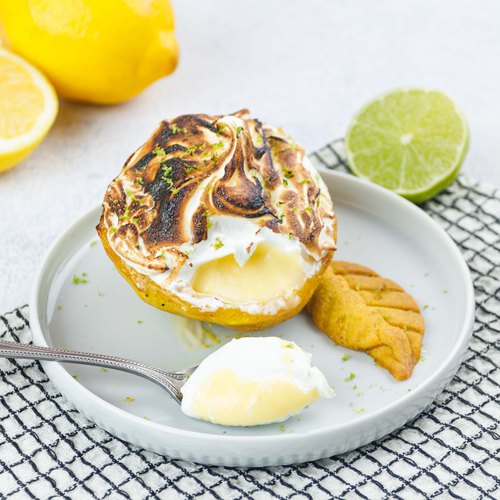 ---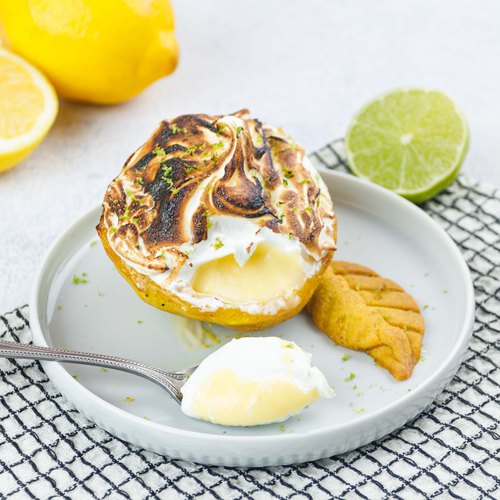 ---
Total time: 1 hour
Prep time: 40 minutes, Cook time: 20 minutes
Ingredients for 3 people
3 lemons
1 lime
1.1 cups of sugar
3 cups of flour
3/5 cup of butter
0.4 cup of lemon juice
2 egg whites
2 1/2 tsp of turmeric
1 1/2 tbsp of rum
---
Tools
Small round cookie cutter
Rolling pin or metal rod
Electric hand mixer
parchment paper
---
Step 1/4
Mix the butter and 0.6 cup of sugar, then add an egg, the flour and the turmeric to obtain a shortbread dough. Roll out the dough and form 6 circles using a circular cookie cutter. Cut the lemons lengthwise, place 3 half-lemons on a baking sheet lined with parchment paper and cover them with shortcrust pastry.
Step 2/4
Form lines in a circle of shortcrust pastry using a knife, glue one end of the circle and cut off the excess pastry to form a sheet. Repeat the process to obtain 3 sheets, place them on the baking sheet with the lemons, then add lime zest before baking at 320°F for 20 minutes.
Step 3/4
Whisk 2 egg whites, pour the rest of the sugar and 2 tbsp of water into a saucepan and heat until you obtain a syrup. Incorporate the syrup into the egg whites to obtain an Italian meringue. Form 3 meringues on a pie dish using a whisk. Heat the rum in a saucepan and flambé the meringue. Break 3 eggs, add the lemon juice and whisk everything to obtain a thick cream. Place the lemon cream in a piping bag and cut off the end.
Step 4/4
Place a dab of lemon cream on a plate, place a lemon shell on it and garnish with cream. Place a meringue on the shell using a spatula and repeat the process for the other two shells. Add the sheets of shortbread and lime zest. Serve and enjoy!