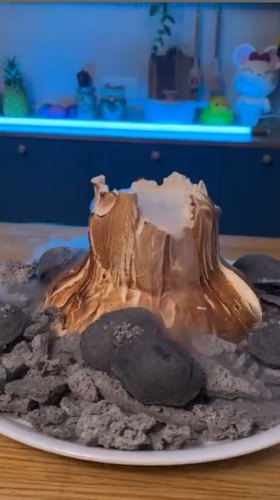 Erupting Volcano Meringue
Erupting Volcano Meringue! Have a blast making this dessert 😉🌋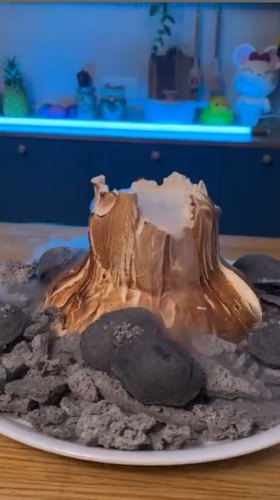 ---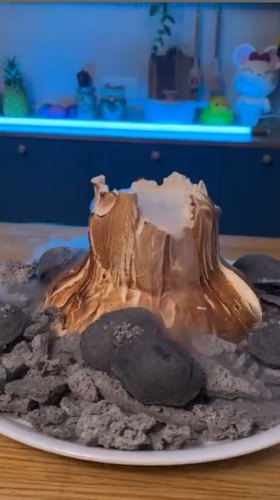 ---
Total time: 3 hours 5 minutes
Prep time: 5 minutes, Cook time: 2 hours 30 minutes, Rest time: 30 minutes
Ingredients for 4 people
2 pie crusts
Black food coloring
3/5 cup of heavy cream
2 tbsp of powdered sugar
3 1/2 oz of mascarpone
Raspberries
7 egg whites
3 cups of sugar
4 tbsp of royal icing
3 1/2 oz of white chocolate
1/2 cup of raspberry coulis
---
Step 1/4
Mix the pie crusts with the black food coloring. Place cups upside down and add the dough on top (press down to shape). Bake 20 minutes at 350°F.
Step 2/4
Whip the heavy cream with mascarpone and powdered sugar. Place in a piping bag and pipe the inside of the pie crusts. Add raspberries on top and refrigerate 30 minutes.
Step 3/4
Mix the egg whites with 2½ cups of sugar. Heat over a double boiler then mix for 10 minutes. Place the mixture over a bottle and bake 1 h 30 at 210°F.
Step 4/4
Boil water with the remaining sugar and royal icing. Pour onto a plate, allow to cool then crumble into pieces. On a serving plate add the volcano meringue, the raspberry tarts and the rock sugar. Melt the white chocolate and place ice cubes in the center of the volcano. Pour the melted white chocolate and raspberry coulis over. Serve and enjoy!