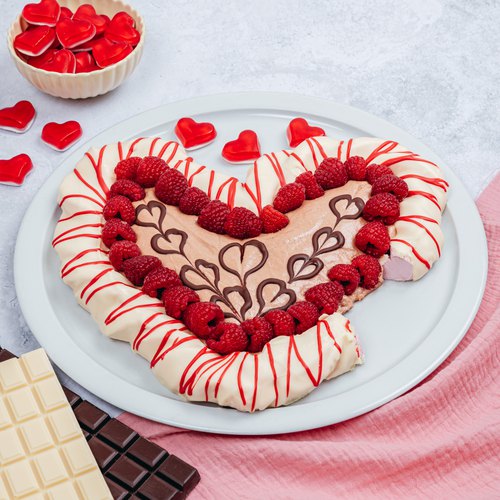 Sweet Marshmallow Heart
Sweet Marshmallow Heart! The perfect treat for Valentine's day ❤️🍬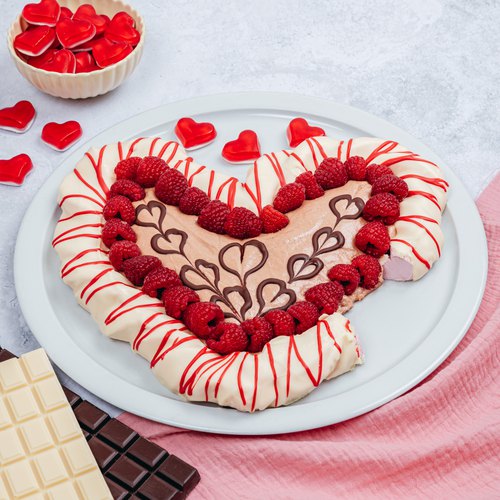 ---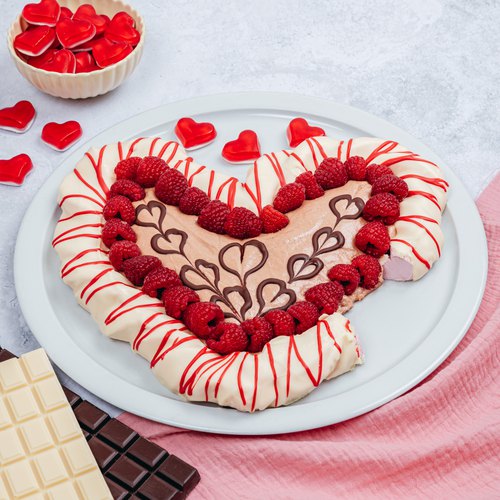 ---
Total time: 40 minutes
Prep time: 20 minutes, Rest time: 20 minutes
Ingredients for 6 people
9 oz of milk chocolate
3 1/2 tbsp of butter
6 egg
6 1/2 tbsp of powdered sugar
21 oz of candies
4 tsp of cornstarch
7 oz of white chocolate
Red food coloring
3 1/2 oz of dark chocolate
1 3/5 cups of raspberries
---
Tools
Electric hand mixer
parchment paper
Toothpicks
Piping bag
---
Step 1/5
Melt the milk chocolate with the butter in a saucepan. Separate the egg whites from the yolks, then beat the egg whites with the powdered sugar. Add 3 egg yolks to the melted chocolate, then gently fold in the egg whites. Mix and refrigerate.
Step 2/5
Melt the candies in a skillet and whisk the melted candies in a food processor for a few minutes. Pour the mixture between two sheets of greased parchment paper, spread everything out and allow to cool for 10 minutes in the freezer.
Step 3/5
Unmold the preparation and sprinkle with cornstarch. Cut 4 strips lengthwise, braid the strips two by two and place the 2 braids in the shape of a heart on a grid. Allow to cool for 10 minutes in the freezer.
Step 4/5
Melt the white chocolate and dye with some with red food coloring. Cover the braided heart with white chocolate, draw lines of red chocolate using the a parchment paper cone.
Step 5/5
Place the heart on a plate and spread the chocolate mousse in the centre. Melt the dark chocolate and draw circles on the mousse using a parchment paper cone. Use a toothpick to create a garland of hearts. Place the raspberries around the mousse. Serve and enjoy!