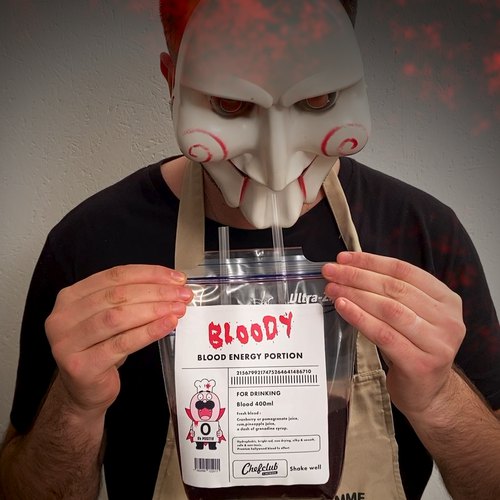 5 BOO-zy Halloween Drink Ideas
These are *frightfully* good! 👻🍹👻🍸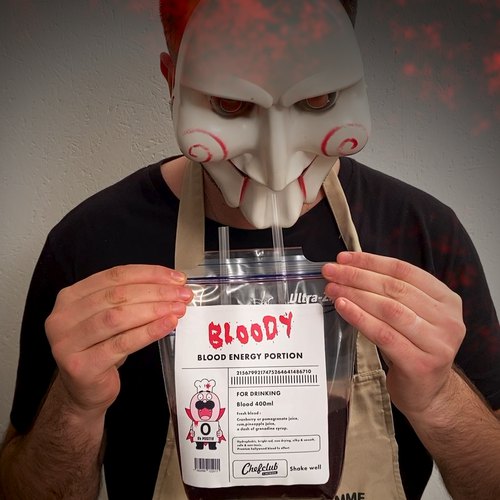 ---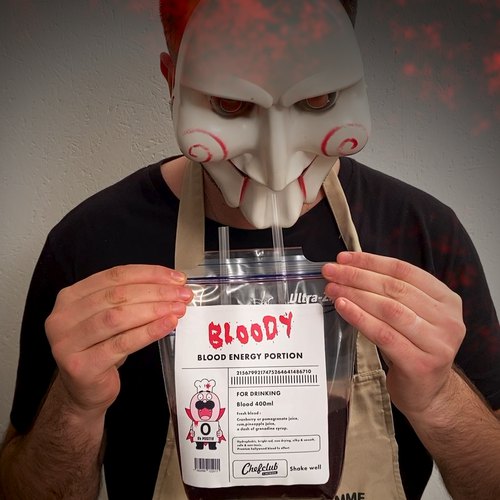 ---
Ingredients for 2 people
melted dark chocolate
vodka
baileys
coffee
absinthe
melted milk chocolate
melted white chocolate
bottle of wine
cherry syrup
clementines
rum
orange juice
mango juice
ice cubes
ice cube tray
blue curaçao
lemon juice
orange soda
---
Tools
Balloons
Skewers
Glasses
Ziploc bags
Cocktail glass
Parchment paper
Spider image
Lighter
Gauze
Blood bag label
String
---
Step 1/5
Lightly inflate 2 small balloons, then dip them into melted dark chocolate. Insert skewers into the knots of the balloons and hang from glasses. Place in the freezer to set. Pour melted dark chocolate into a Ziploc bag. Cut one of the bottom corners of the bag to make a very thin piping bag. Draw a spider web inside a cocktail glass. Pierce the balloons to retrieve the chocolate shells. Place parchment paper on a spider image. Use the Ziploc bag to trace the spider on the parchment paper. Place the edges of the chocolate shells on a hot plate to melt slightly and then stick them together. Place these shells on the chocolate spider to make the body. Pour 1 fl oz of vodka into the cocktail glass, then 2 fl oz of Baileys and 1/4 cup of coffee. Place the spider on the glass then pour absinthe on top. Flame the absinthe with a blowtorch to melt the spider in the glass.
Step 2/5
Draw eyes with white and milk chocolate on parchment paper and place it in the freezer. Coat 1 bottle of wine with gauze. Cut 1 notch in the middle of the bandages and insert the eyes inside. Pour cherry syrup around the eyes.
Step 3/5
Insert 2 straws in the zip of a Ziploc bag. Mix 5 fl oz cherry syrup,5 fl oz vodka, and 13 fl oz sparkling water. Pour into the bag. Close the freezer bag. Design your own blood bag label and attach it to the front of the bag.
Step 4/5
Cut 2 clementines in half and use a knife to carve pumpkin faces on 2 of the halves. Peel the rest of the clementines, ensuring that the peels stay intact. Place the fruit into two drink glasses. Pour 1 fl oz of rum, followed by 1/2 cup of orange juice, 2 fl oz of mango juice, and ice cubes. Place 1 half of the hollowed-out clementines in each glass. Fill these half clementines with absinthe and put the clementine faces inside. Light the absinthe on fire.
Step 5/5
Fill balloons with helium and tie with string. Draw faces on them. Fill 1 ice cube tray with mint-flavored water and freeze until solid. Unmold the ice cubes and tie them with the balloon string. Pour 1.4 fl oz of blue Curaçao, 2 fl oz of lemon juice, and 2 fl oz of orange soda into glasses. Finish by placing an ice cube hanging from a balloon in each.