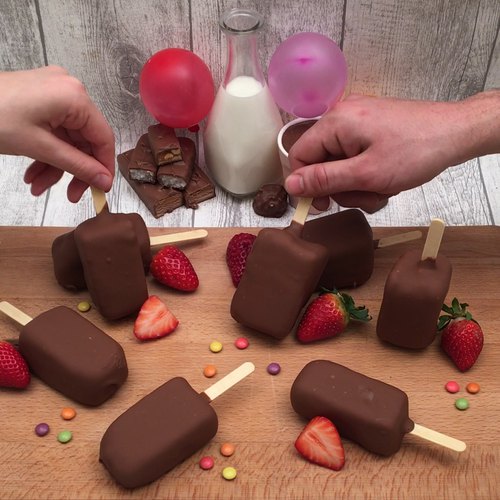 Candy Bar Ice Cream
It's as easy as one, two, three. 💥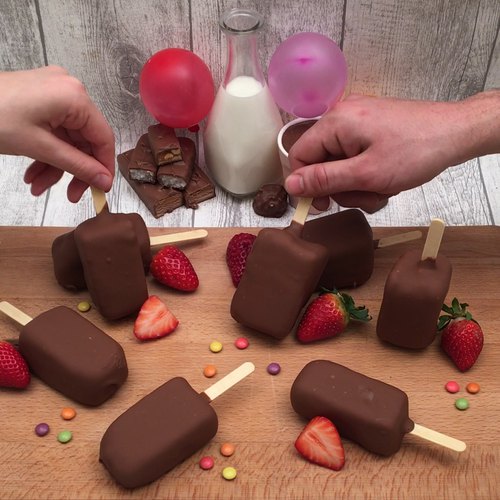 ---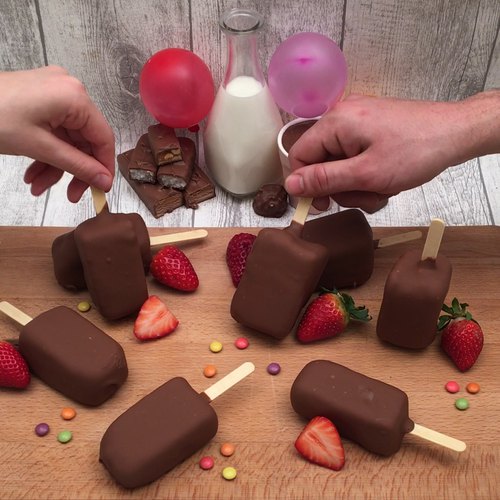 ---
Ingredients for 8 people
4 mounds ® candy bars
4 mars ® candy bars
104 grand ® candy bars
4 snickers ® candy bars
3 cups of heavy cream
3/5 cup of condensed milk
1 1/4 cups of milk chocolate
---
Tools
Empty juice carton
Cardboard
Popsicle sticks
Electric hand mixer
---
Step 1/3
Remove 1 side of the carton. Cut 2 rectangles the same size as the removed side out of the cardboard and cut 1 into 3 squares. Make a notch half the size of the squares in the middle of one side of each. Make 1 cut half the size of the rectangle in the middle of the length and 2 more between this first cut and the edge. Fit the squares into the rectangle. Place this assembly in the cardboard box and cover all compartments with cling wrap.
Step 2/3
Stick a popsicle stick into 2 Mound ®, 2 Mars ®, 2 100 Grand ®, and 2 Snickers ®. Whip the heavy cream into a whipped cream and then stir in the condensed milk. Divide the whipped cream in 4 and crumble the remaining Mound ® into one part, the remaining Mars ® into another, the remaining 100 Grand ® into the third, and the Snickers ® into the last.
Step 3/3
Pour each mixture into 2 compartments of the cardboard carton and then push the chocolate bars corresponding to the mixture into each compartment. Freeze for 2 hours. Turn out of the mold, dip the ice cream in the melted chocolate, let harden, and enjoy!