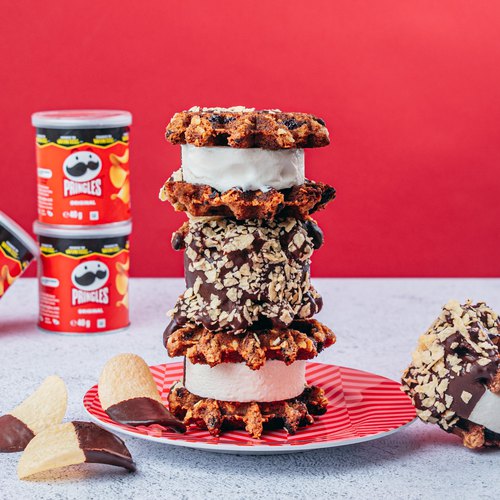 Chipper Ice Cream Sandwich
Chipper Ice Cream Sandwich! This dessert is all that and a bag of chips 😉🍦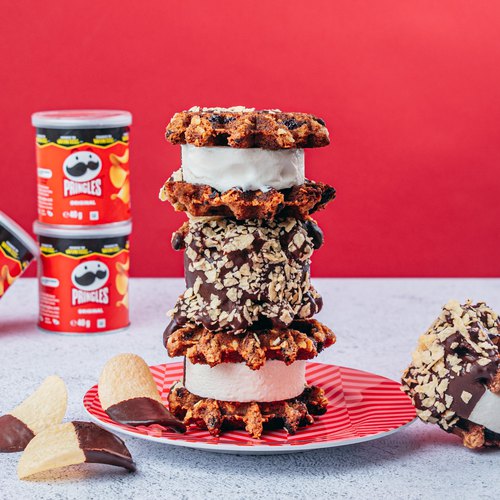 ---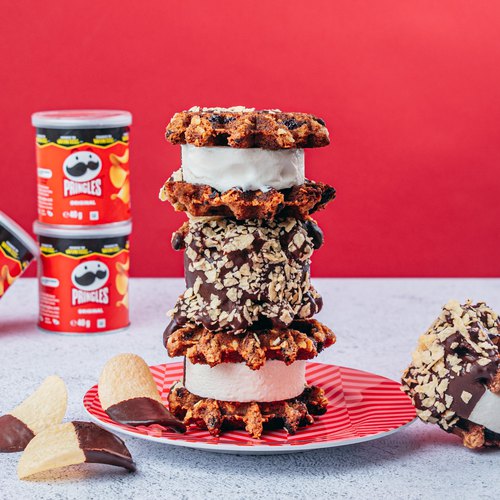 ---
Total time: 6 hours 10 minutes
Prep time: 10 minutes, Rest time: 6 hours
Ingredients for 6 people
1 pringles can
1 cookie dough
1 cup of crushed pringles
1 can of condensed milk
1 1/2 cups of heavy cream
2 cups of melted dark chocolate
---
Tools
Electric hand mixer
Waffle iron
Rolling pin or metal rod
Cooling rack
---
Step 1/3
Infuse the heavy cream with the pringles chips. Whip to stiff peaks and fold in the condensed milk. Pour the mixture back into the pringles can. Freeze a few hours until solid.
Step 2/3
Preheat waffle iron. Remove the cookie dough from the tube of packaging, roll in crushed pringles. Make balls of cookie dough. Spray the waffle iron with non-stick spray. Place one or two balls of cookie dough and cook for 3-4 minutes. Carefully remove the cookies and place on a cooling rack. Continue until all the cookies are baked.
Step 3/3
Remove the ice cream from the freezer. On a cutting board, slice through the pringles container to create perfect circles of ice cream. Stack together with the cookies to create waffle cookie ice cream sandwiches. Dip the cookies into melted chocolate and sprinkle with crushed pringles. Dip a few of the whole pringles in the melted chocolate as well. Serve and enjoy!