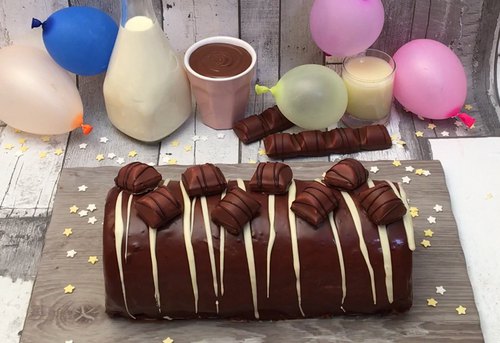 Kinder Yule
We know it isn't Christmas and that it's not a Yule Log, but you get the idea!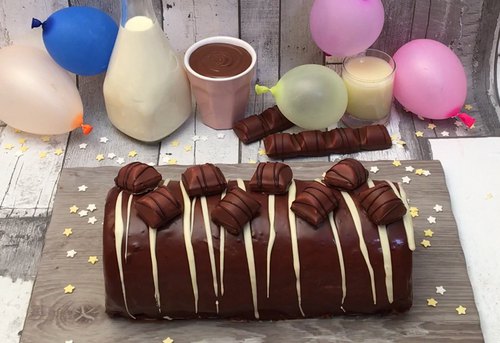 ---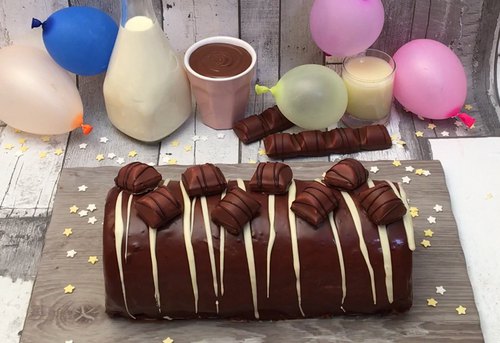 ---
Ingredients for 8 people
5 cups of heavy cream
1 tbsp of condensed milk
2 tbsp of chocolate hazelnut spread
8 mini chocolates
8 chocolates
1 cup of dark chocolate
1/2 cup of white chocolate
---
Tools
Large plastic bottle
Roll scotch tape
---
Step 1/4
Cut off the top of the bottle and remove the part with the cap. Cut the bottle in two length-wise. Form the mold by layering the two halves of the bottle and joining them with tape.
Step 2/4
Beat 3 1/2 cups of cold heavy cream to make whipped cream, then carefully incorporate the chocolate hazelnut spread and the condensed milk. Fill the mold halfway up with cream and place 2 chocolates in the center. Cover with the rest of the cream. Put the rest of the chocolates on the top of the log, then place it in the freezer for 4 hours.
Step 3/4
Heat the rest of the heavy cream and melt the dark and white chocolates separately. Mix about 1 cup of the hot cream with the dark chocolate, and 1/2 cup of the hot cream with the white chocolate. Put the log on a wire rack and remove the plastic.
Step 4/4
Pour the dark chocolate syrup over the log, then spoon the white chocolate syrup over the log and decorate with chocolate Minis. Enjoy cold.