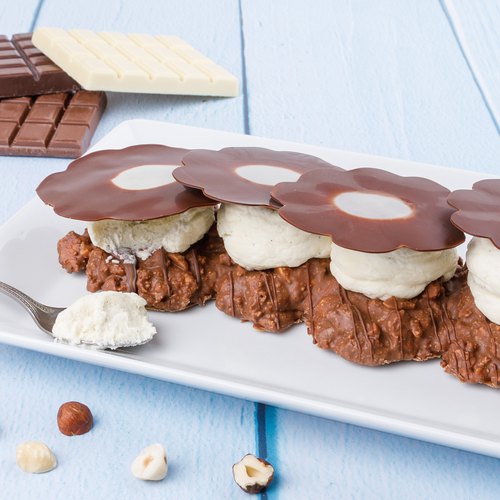 Flowery Chocolate Mousse
Flowery Chocolate Mousse! Both beautiful and delicious 😉🌼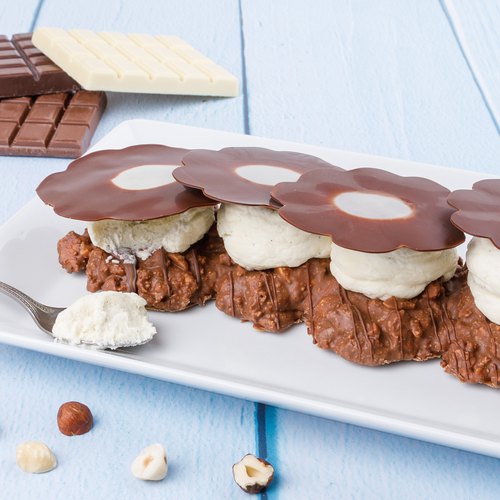 ---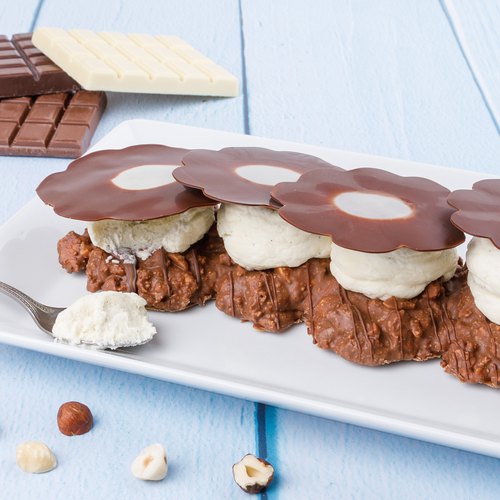 ---
Total time: 2 hours 5 minutes
Prep time: 35 minutes, Rest time: 1 hour 30 minutes
Ingredients for 5 people
2 oz of dark chocolate
9 oz of white chocolate
10 butter cookies
5.3 oz of hazelnuts
1 vanilla bean
1.2 cups of heavy cream
---
Tools
Ziplock bag
Apple cutter
Melon baller
Cling wrap
Shot glass
---
Step 1/3
Cut the ends of a Ziplock bag. Melt the dark chocolate and white chocolate, open the plastic bag, place 2 drops of dark chocolate and 2 drops of melted white chocolate over the dark chocolate and fold the Ziplock bag. Flatten the melted chocolate using an apple cutter to make a flower and refrigerate for 20 minutes. Repeat the process until you get 5 flowers.
Step 2/3
Crush the butter cookies, melt the milk chocolate, add the crushed biscuits and hazelnuts and mix until you get a smooth paste. Make balls with the mixture using a melon baller and place it on the cling wrap. Close the plastic wrap and make 5 balls. Arrange the chocolate balls on a baking sheet, place shot glasses in each and refrigerate for 30 minutes.
Step 3/3
Melt the rest of the white chocolate. Beat it with the cream and the scraped vanilla bean to make a whipped cream. Place in a piping bag and set aside. Mix the rest of the dark and white chocolate, pour over the chocolate flowers in rows and place them on a plate. Place 5 balls of white chocolate whipped cream in the centers, place the chocolate flowers on each one and enjoy!