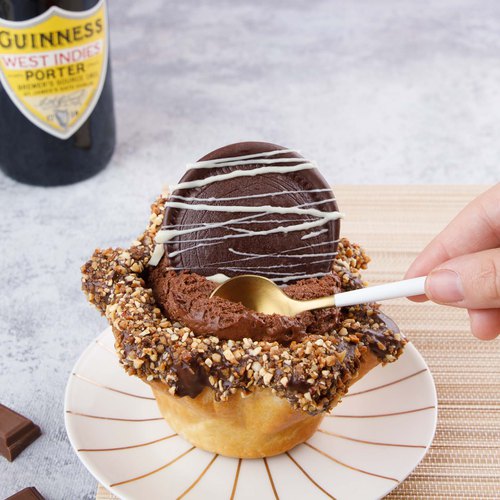 Unbeerlievable Chocolate Mousse
Don't worry, get hoppy with this sweet recipe 😁🍺🍫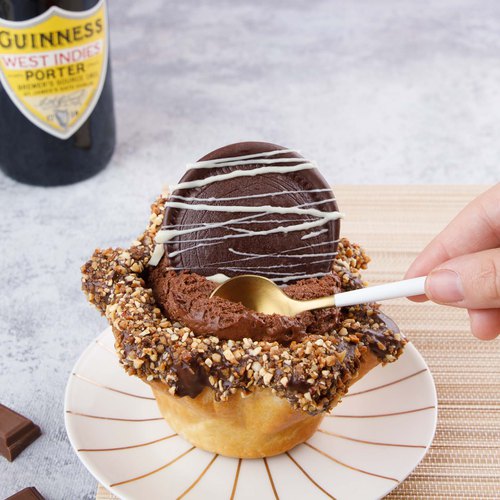 ---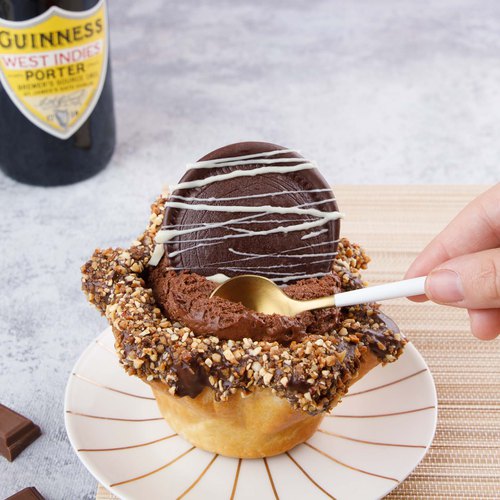 ---
Total time: 2 hours 30 minutes
Prep time: 40 minutes, Cook time: 20 minutes, Rest time: 1 hour 30 minutes
Ingredients for 3 people
6 egg
1 puff pastry
8 tbsp of beer
18 oz of dark chocolate
2 oz of white chocolate
1 pinch of flour
1 egg yolk
4 tbsp of hazelnut praline
---
Tools
Electric hand mixer
parchment paper
---
Step 1/4
Break the eggs, separate the white from the egg yolks, place the egg whites in a bowl, place the beer in the center and beat the egg whites with an electric mixer. Remove the beer in the center, open it and pour 7 tbsp of beer into the whipped egg whites. Melt 10.5 oz of dark chocolate and add it to the preparation then mix with a spatula until smooth. Refrigerate the mousse for 1 hour and 30 minutes.
Step 2/4
Place an empty beer in the freezer. Melt the remaining dark chocolate, pour a dot of melted dark chocolate onto the baking shee. Take the beer out of the freezer and press the melted chocolate with the bottom of the frozen empty beer to make a chocolate circle. Repeat the process to have 3 circles of chocolate. Melt the white chocolate, form lines of melted white chocolate on the chocolate circles using a fork and set them aside.
Step 3/4
Cut 3 circles in the puff pastry. Overlap the circles of puff pastry, sprinkle them with flour, press the puff pastry at regular intervals using an empty beer to obtain a wavy pattern. Place 3 glasses upside down on a baking tray lined with parchment paper. Place the puff pastry on each glass. Pour 1 tablespoon of beer into the egg yolk, mix then brush the puff pastry with the egg yolk and beer mixture. Bake for 20 minutes at 350°F.
Step 4/4
Dip the outline of the puff pastry shells in the rest of the melted dark chocolate and in the pralines. Place the puff pastry shells each on a plate, garnish them with the chocolate mousse. Place the chocolate circles on the chocolate mousse and enjoy!