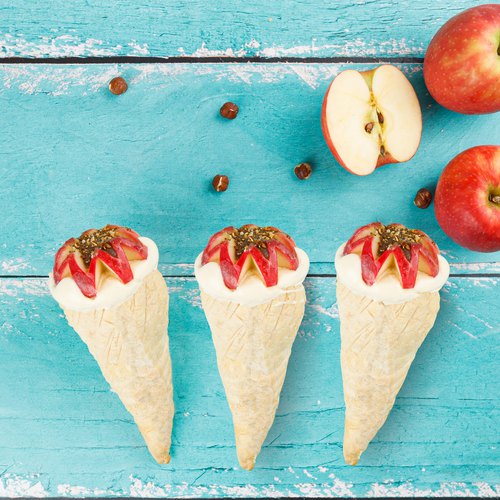 Apple Pie Ice Cream Cone
Apple Pie Ice Cream Cone! This dessert is out of conetrol 😋🍦🍎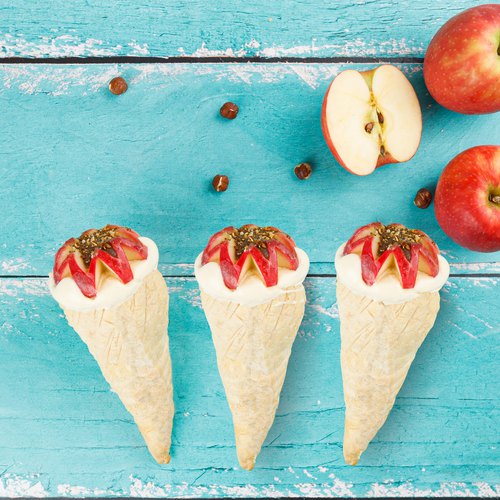 ---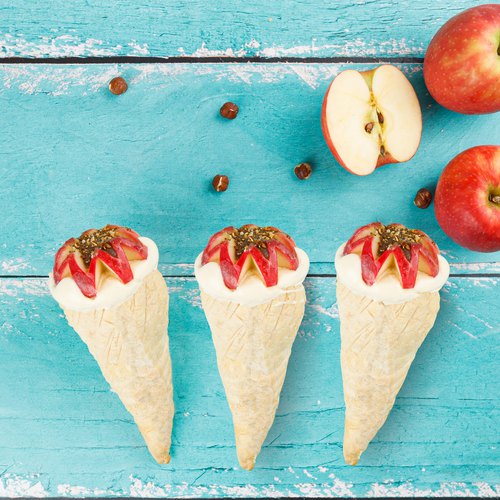 ---
Total time: 1 hour 30 minutes
Prep time: 35 minutes, Cook time: 35 minutes, Rest time: 20 minutes
Ingredients for 3 people
3 ice cream cones
1 puff pastry
4 tbsp of butter
4 tbsp of brown sugar
3 1/2 oz of milk chocolate
3 scoops of vanilla ice cream
Hazelnut praline
---
Tools
Foil
Melon baller
---
Step 1/4
Grate the end of the cones to smoothe them. Wrap the cones in aluminum foil. Place the cones at the ends of the puff pastry. Cut the puff pastry into 3 parts using the cones as a guide, roll up each cone in a part of the puff pastry, roll the cones on a wire rack to obtain a squared pattern. Place them upright on a baking tray and bake for 35 minutes at 170°C.
Step 2/4
Sprinkle the butter with brown sugar. Cut the apples in 2, cut the 2 sides of half of the apples to form a star. Cook each side in the pan with the butter sprinkled with brown sugar. Cut the remaining apples into pieces and brown them in the pan with the remaining butter and brown sugar.
Step 3/4
Remove the aluminum foil cones from the puff pastry cones. Melt the milk chocolate, pour it into a puff pastry cone, spread it over the inside and pour the excess into the other cones then into the center of the star shaped apples. Sprinkle the praline over the melted milk chocolate apples and refrigerate for 20 minutes to allow the chocolate to set.
Step 4/4
Form 3 scoops of Chefclub vanilla ice cream using a melon baller, place the star shaped apples on each scoop of ice cream. Garnish the cones with the cooked apples, place the scoop of ice cream with the star apple on top and enjoy!