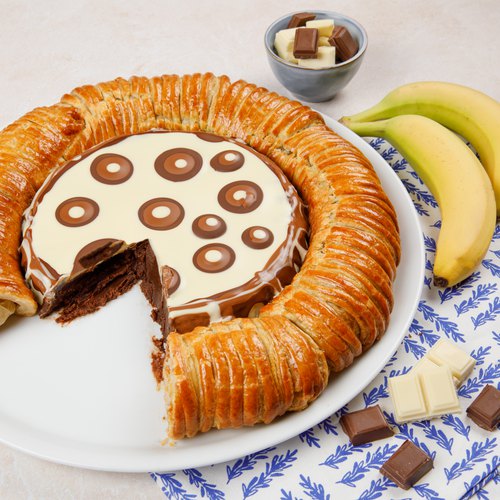 Abrabanana Chocolate Tart
Abrabanana Chocolate Tart! A recipe to bake you feel good 🥰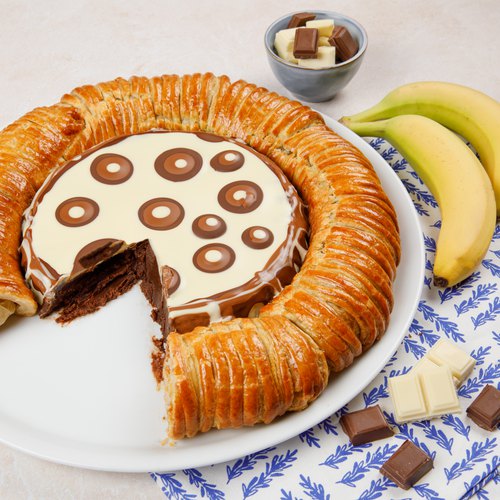 ---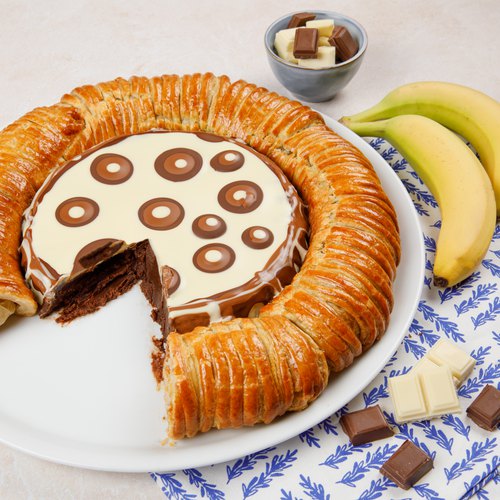 ---
Total time: 2 hours 25 minutes
Prep time: 40 minutes, Cook time: 1 hour 45 minutes
Ingredients for 5 people
7 oz of dark chocolate
3 egg
6 tbsp of flour
3/5 cup of sugar
3/5 cup of butter
5.3 oz of white chocolate
1 3/4 oz of milk chocolate
4 bananas
4 stuffed chocolate bars
4 puff pastries
1 egg yolk
---
Tools
Pipette
Squeeze bottle
parchment paper
---
Step 1/4
Melt 1.75 oz of dark chocolate. Mix the chocolate, eggs, flour, sugar and melted butter until smooth. Bake for 1 hour at 270°F.
Step 2/4
Melt the white chocolate, coat the cake with the melted white chocolate, pour the rest of the dark chocolate into a pipette then form dots of melted dark chocolate on the cake. Melt the milk chocolate, pour it into a squeeze and add milk chocolate dots on the dark chocolate dots. Repeat the process with the rest of the melted white chocolate then set the cake aside.
Step 3/4
Remove the skin from the bananas and slightly incise the sides of the bananas. Cut the filled chocolate bars into 5 then place them in the cuts of the bananas. Roll up a banana in half of the puff pastry, cut the other half into strips and then roll up the banana completely. Repeat the process with each banana then place them on a baking tray lined with parchment paper in a circle (around the upside down mold). Brush the puff pastry rolls with egg yolk then bake for 45 minutes at 320°F.
Step 4/4
Place the circle of puff pastry on a plate, place the chocolate in the center and enjoy!