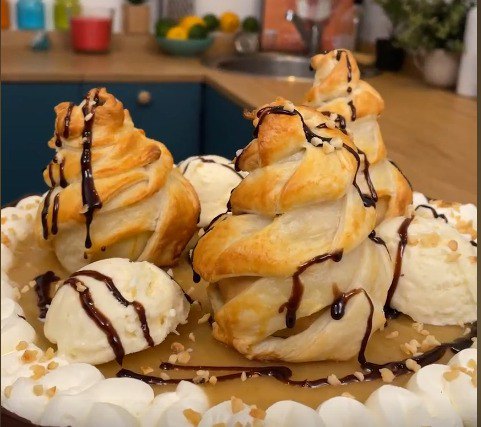 Poached Pear & Ice Cream Tart
Poached Pear & Ice Cream Tart! A deliciously refreshing dessert 😄🍨🍐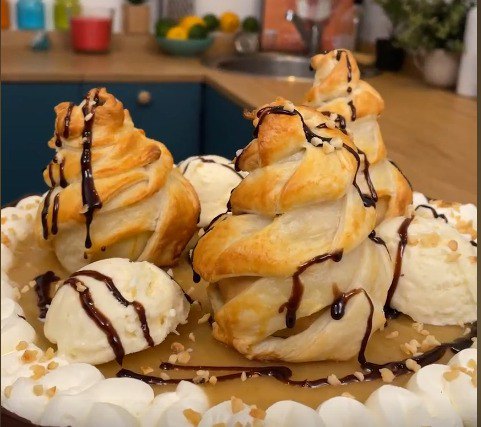 ---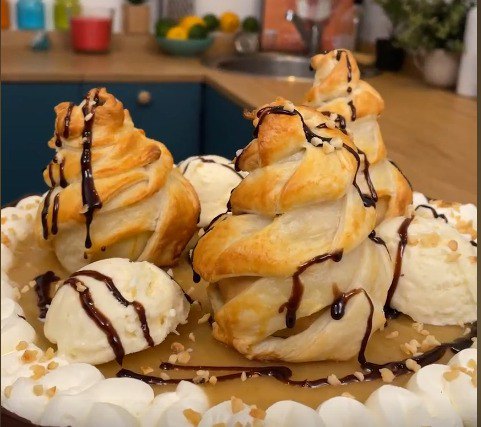 ---
Total time: 3 hours 35 minutes
Prep time: 40 minutes, Cook time: 25 minutes, Rest time: 2 hours 30 minutes
Ingredients for 5 people
7 pears
2 puff pastries
2 containers of pear compote
10 1/2 oz of dark chocolate
1/2 cup of hazlenuts
1 1/2 cups of heavy cream
10 1/2 cups of mascarpone
2 tbsp of sugar
3 1/2 oz of soft caramels
5.2 oz of milk chocolate
Water
Vanilla extract
Chefclub vanilla ice cream
---
Tools
Piping bag
Melon baller
---
Step 1/4
Peel and cut 4 pears into pieces. Pour 0.2 cup of water with the vanilla extract in a pan, add the chopped pears and cook over medium heat for 15 minutes, stirring constantly.Allow to cool and set aside.
Step 2/4
Pour the water into the pie pan and place in the freezer for 2 hours to make an ice cube. Make a syrup with 2 cups of water and 2 tbsp of sugar. Peel the pears, remove the interior and dip them in the syrup. Cut the puff pastry into strips. Place 2 squares of dark chocolate in the cavity of the pear and place 4 strips of puff pastry in a cross shape on the countertop. Place the pear in the center and fold the strips of puff pastry into a weave around it. Place it on a baking sheet. Repeat the process 3 more times. Bake in the oven for 25 minutes at 350°F.
Step 3/4
Melt the remaining dark chocolate, place the ice cube upside down on a pastry rack on a plate and pour the melted dark chocolate on top. Spread the chocolate over the entire surface and sprinkle with crushed hazelnuts. Let the chocolate harden and unmold. Make a whipped cream by beating the powdered sugar, mascarpone and 1½ cup of heavy cream. Place in a piping bag.
Step 4/4
Place the jam in the chocolate mold, arrange the whipped cream around the edge of the pie and sprinkle the crushed hazelnuts on top. Refrigerate for 30 minutes. Place the puff pastry pears over the jam and place 3 scoops of Chefclub vanilla ice cream made with a melon baller. Add the chocolate syrup, sprinkle with the crushed hazelnuts and enjoy!