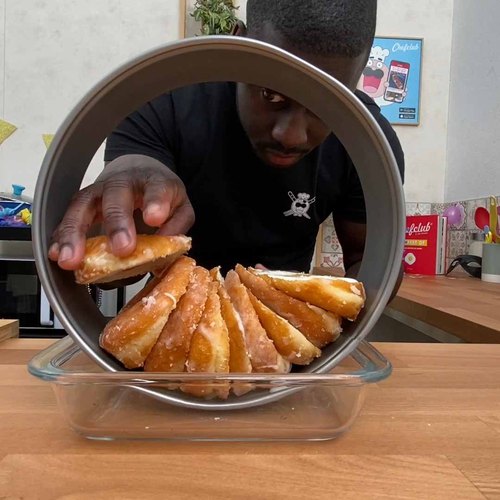 Easy King Cake
Enjoy Fat Tuesday with donuts!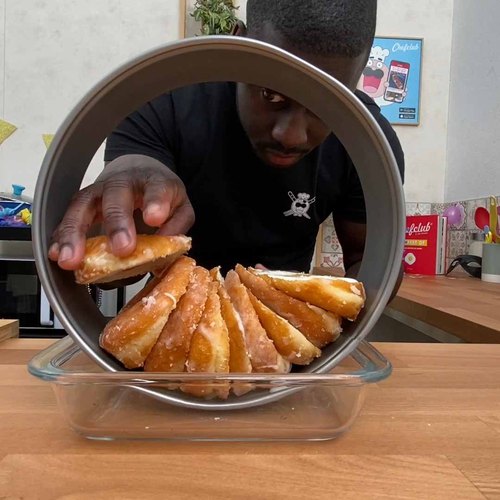 ---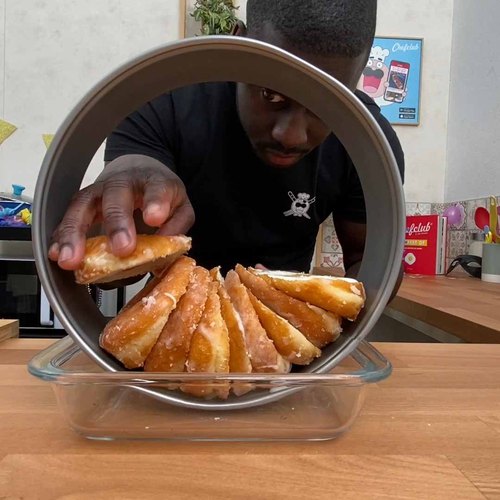 ---
Ingredients for 8 people
purple food coloring
melted white chocolate
day-old donuts
green food coloring
icing
raspberry jam
sanding sugar
sugar
cold water
---
Tools
Plastic sheet
Mask
Plastic wrap
Butcher knife
Springform pan
Small baking dish
Food safe mini baby figurine aka mardi gras baby
Blowtorch
Paring knife
Whisk
---
Step 1/5
Cover the inside of the mask with plastic wrap. Divide the melted white chocolate into 2 parts. Add green food coloring to one bowl and purple food coloring to the other bowl. Coat the plastic wrap with the purple food coloring. Let chill until solid, then repeat for a second coat, then remove the mask and plastic from the chocolate mask.
Step 2/5
Dip the butcher knife in the green white chocolate then stamp the knife on the plastic sheet. Repeat with the purple white chocolate. Let chill until solid. Use the blowtorch to make the paring knife hot and use it to carve the knife stamps into feathers. Use melted white chocolate to "glue" the feathers to the mask.
Step 3/5
Stand the springform pan ring in the small baking dish or a small bowl. Diagonally slice the donuts in half. Then place the donuts in the pan, "gluing" the donuts together with icing. Be sure to place the wider side along the edge of the pan and the thinner side towards the center. Pipe raspberry jam in the center of the donuts. Place the Mardi Gras Baby in the center. Let chill.
Step 4/5
Place the sugar in a saucepan. Stir until melted, then place the pan in a bowl of cold water. Let cool until the caramel is thick. Wrap the caramel around the handle of the whisk creating caramel ribbons.
Step 5/5
Remove the springform ring from the donut cake. Cover with icing, then sanding sugar. Top with the chocolate mask and feathers and decorate with the golden ribbons. Enjoy!