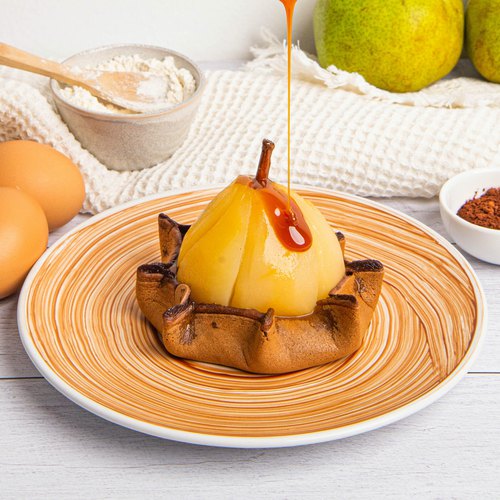 Chocolate pear pancake bowls
Oozing with decadence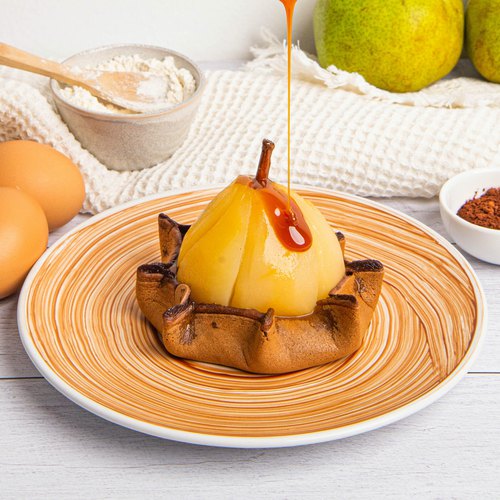 ---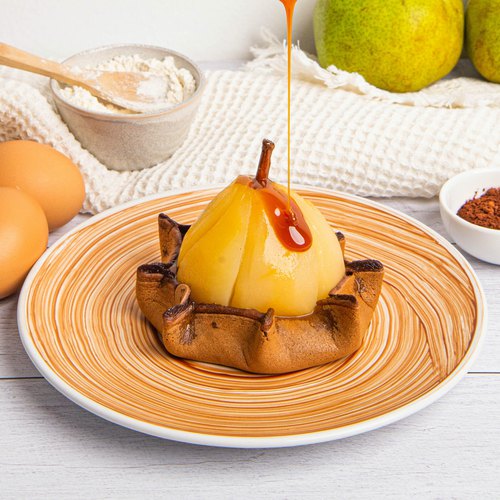 ---
Total time: 25 minutes
Prep time: 25 minutes
Ingredients for 3 people
2 tbsp of butter
3 tbsp of melted dark chocolate
3 pears
1 1/3 cups of sugar
1 lemon
2 cups of flour
1 pinch of salt
1 tsp of baking powder
2 eggs
1/4 cup of butter
3/4 cup of milk
2 2/3 tbsp of cocoa powder
chefclub chocolate hazelnut spread
chefclub vanilla ice cream
caramel sauce
---
Tools
Spinning cheese board
Pastry brush
Ice cream scoop
Glasses
---
Step 1/4
Mix the butter and melted chocolate. Place a plate on the spinning cheese board, dip the tip of the brush in the melted chocolate, and paint a circular pattern on the plate using the spinning board. Repeat until all 3 plates are covered with chocolate.
Step 2/4
Remove the base of the pears with the ice cream scoop, then peel the pears and dig furrows on the surface to decorate them. Make a syrup by melting 1 cup sugar in 4 1/4 cups water, then add lemon juice and dip the pears in it. Let them cook for 25 minutes.
Step 3/4
Prepare the pancake batter: mix the flour with the salt, the remaining sugar, and the baking powder. Add the eggs and melted butter, then pour in the milk gradually. Once the mix is smooth, add the cocoa powder and stir. Cook 3 pancakes on one side only, then bend the pancakes by pinching the edges with your fingers until you have a pancake bowl with 8 points. Microwave the chocolate spread for 15 seconds, then spread it inside the pancakes, and place one pancake in the middle of each chocolate decorated plate.
Step 4/4
Take the poached pears and flip them upside down in glasses. Garnish each pear with a scoop of vanilla ice cream, then place one pear in the middle of each pancake. Pour caramel sauce on top of the pears. Serve and enjoy!