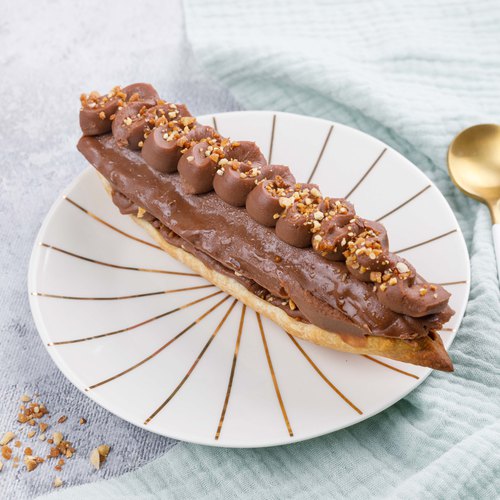 Chocolate Banana Boat
Chocolate Banana Boat! This yummy dessert is sure to float your boat ⛵🍫🍌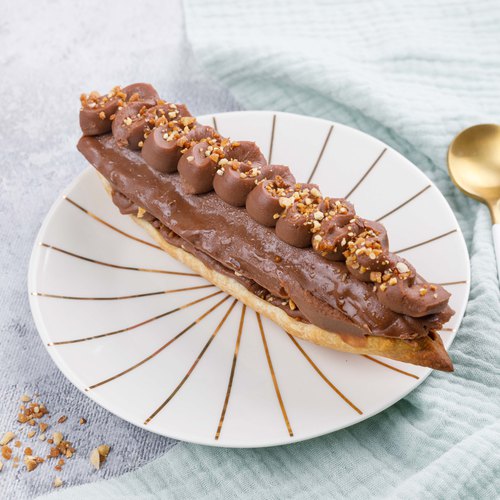 ---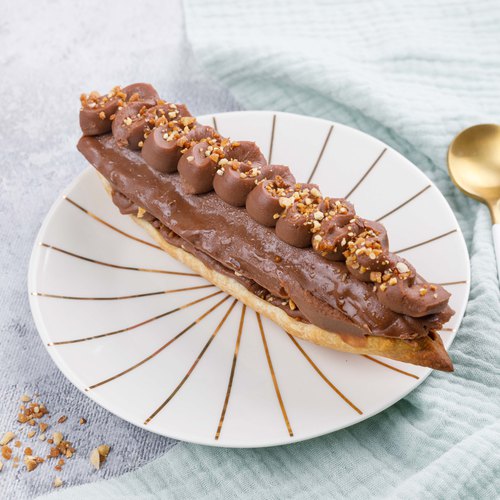 ---
Total time: 1 hour 30 minutes
Prep time: 40 minutes, Cook time: 20 minutes, Rest time: 30 minutes
Ingredients for 3 people
1 shortcrust pastry
3 bananas
1 3/4 cups of milk chocolate
4/5 cup of heavy cream
1/4 cup of hazelnuts
1 1/2 tbsp of sugar
Vegetable oil
---
Tools
Mortar
Parchement paper
---
Step 1/3
Cut a banana in half lengthwise. Reserve the upper part, empty the second half and keep the skin. Cut a piece of the shortcrust pastry the size of the banana and place it inside the banana peel. Fry the whole thing for 10 minutes in frying oil. Turn the dough several times using tongs to cook evenly. Drain and set aside on a plate.
Step 2/3
Melt 1 cup of milk chocolate in a saucepan. Take another banana and remove the top of the peel and place it under a rack with parchment paper. Press to form a grid in the banana before covering it with the chocolate and tapping the grid to smooth the chocolate. Remove the top part of the banana, place it on a plate and refrigerate for 15 minutes.
Step 3/3
Melt the remaining chocolate and add the heavy cream. Mix and allow to cool for 15 minutes to obtain a chocolate ganache. Place the ganache in a piping bag, cut off one end and pour it over the dough. Shell, crush and cook the hazelnuts with the sugar in a saucepan to caramelize them before placing them on the chocolate ganache. Place the banana-chocolate decoration on top, apply the rest of the ganache in the shape of waves and sprinkle with caramelized hazelnuts and enjoy!