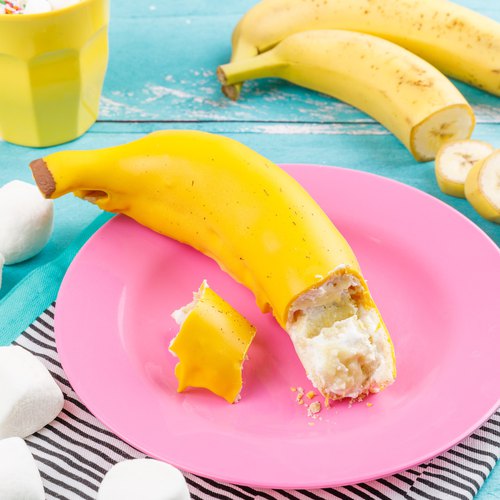 Top Banana Cream Pie
Top Banana Cream Pie! You'll want to slip into this yummy dessert 😉🍌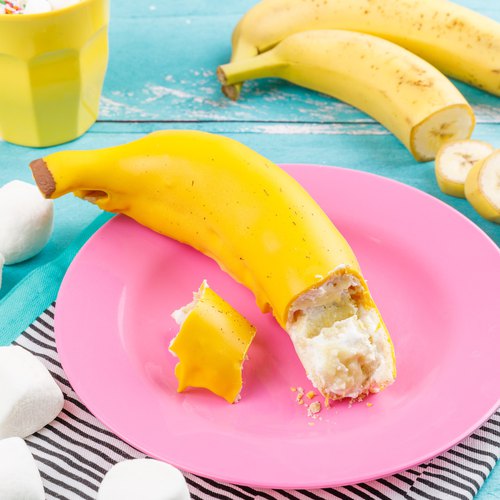 ---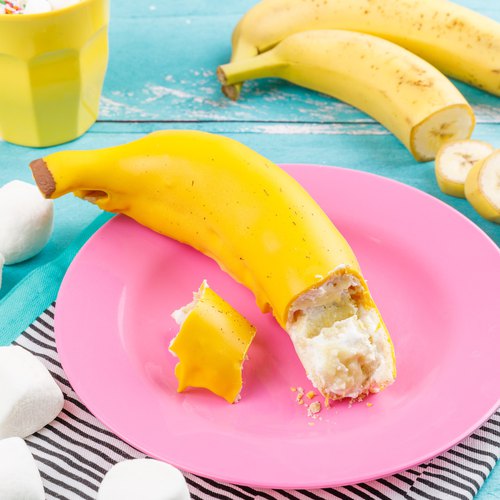 ---
Total time: 2 hours
Prep time: 5 minutes, Cook time: 15 minutes, Rest time: 1 hour 40 minutes
Ingredients for 4 people
4 bananas
2 pie crust
1 box of vanilla pudding
1/4 cup of fluff
2 cups of heavy whipping cream
2 cups of melted white chocolate
Yellow food coloring
2 tsp of cocoa powder
4 tsp of vanilla extract
---
Tools
Cling wrap
Toothbrush
Cooling rack
---
Step 1/4
Preheat the oven to 350°F. Spray the bananas with non-stick spray or rub with butter. Place the bananas on top of the unrolled pie crust. Using a small knife, cut an oversized outline of each banana. Arrange the bananas evenly spaced out on a baking sheet lined with parchment paper. On top of each banana place the banana shaped pie crust. Make sure that you have both sides for each pair of bananas so that when the dough is cooked it will match up with its corresponding side. Bake for 15 minutes. Carefully remove the pie crust from the bananas and set aside. I.
Step 2/4
Prepare the vanilla instant pudding according to the package. Squeeze the cooked bananas into the vanilla pudding and stir to combine. Pour the pudding into a piping bag or a plastic ziploc bag. Pull out a long piece of plastic wrap and lay it out on the counter. Pipe 2 lines of banana pudding on the plastic wrap. Fold one side over and roll into a log. Place into a round cake pan and freeze until solid.
Step 3/4
Whip the cream and the fluff together to get a whipped cream. Break the banana pudding into the proper length to fit into the banana pie crusts. Dip quickly into the whipped cream and place into the banana crust. Repeat with the second one then cover both with the corresponding banana pie crust. Put the banana pies onto a cooling rack placed over a sheet pan. Mix the melted chocolate with the yellow food coloring. Pour the chocolate over the banana pies.
Step 4/4
Once the chocolate has set, mix together the rum or vanilla extract with the cocoa powder. Dip the toothbrush in the mixture and using your fingers to rub over the brush creating a splatter. Add some details such as the brown on the ends of the bananas. Serve and enjoy!