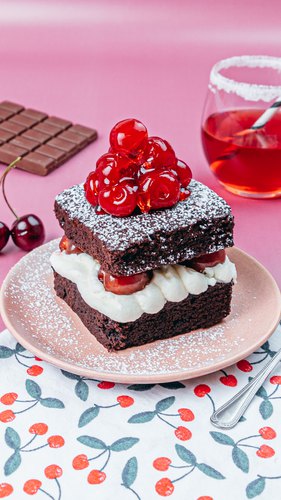 Bourbon Cherry & Chocolate Cake
Bourbon Cherry & Chocolate Cake! The boozy dessert you deserve 🍒🎂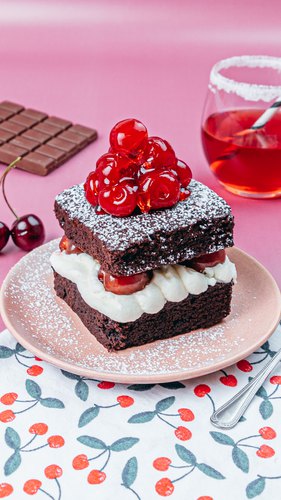 ---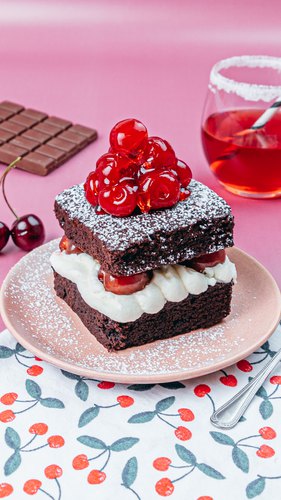 ---
Total time: 1 hour 30 minutes
Prep time: 10 minutes, Cook time: 1 hour , Rest time: 20 minutes
Ingredients for 4 people
1 box of devil's food cake mix
4 cups of cherries
3 cups of sugar
1 oz of powdered sugar
Bourbon
2 cups of whipped cream
2 cups of maraschino cherries
Red food coloring
---
Tools
Skewers
Cocktail shaker
Mason jar
---
Step 1/5
Bake devils food cake according to package directions. Remove from oven and allow to cool.
Step 2/5
In a sauce pot add a bottle of bourbon and 2 cups of sugar. Allow to boil until all the sugar dissolves. Put pitted and de stemmed cherries in a mason jar, add warm bourbon sugar mixture and secure lid tightly. Cut the cake in 2 layers. Use skewers to poke holes on both sides of the cake. Use bourbon from the cherries to soak the cake. Cut cake in fours.
Step 3/5
Take a square of cake and place it to a plate, add whipped cream to the first layer of cake, then add bourbon soaked cherries. Put second square of cake on top of the cherries. Cook sugar and water with red food coloring until it reaches 150°F. Stack maraschino cherries into a triangle shape. Once sugar water mixture has cooled to 120°F, pour over the cherries and allow to harden.
Step 4/5
Sprinkle powdered sugar on the cakes and top with maraschino cherry triangle.
Step 5/5
Pour bourbon, ice and bourbon-sugar mixture into cocktail shaker. Shake and serve in a glass over ice. Enjoy!