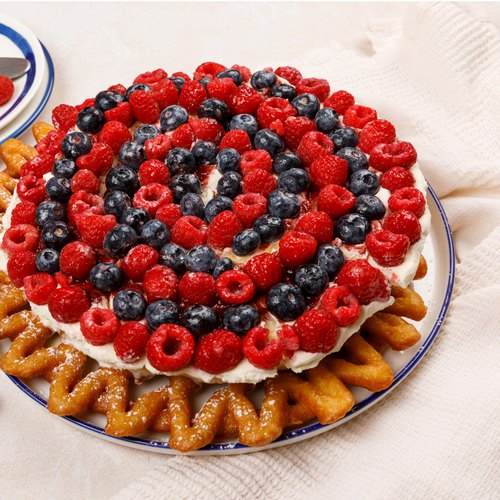 Berrylicious Funnel Cake
Only the berry best recipe for you! 🤗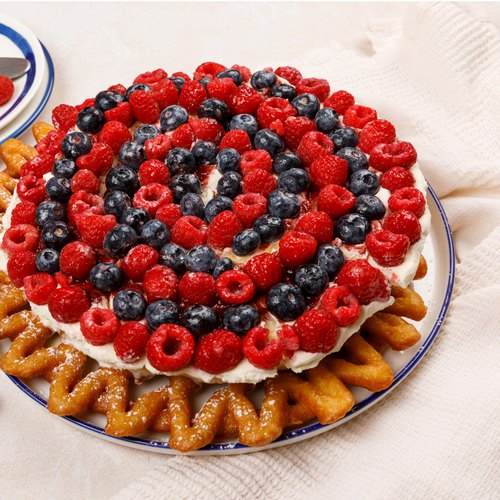 ---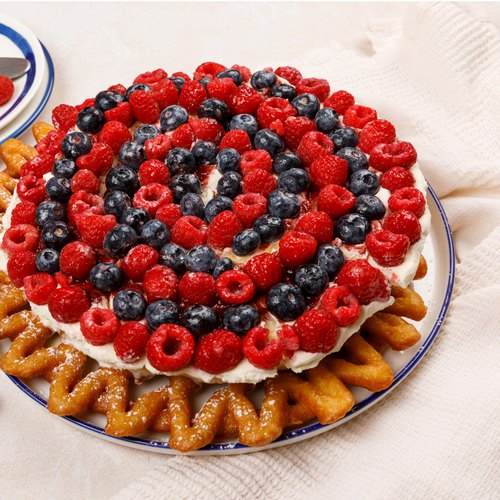 ---
Total time: 45 minutes
Cook time: 45 minutes
Ingredients for 6 people
2 cups of water
1/2 cup of butter
1 cup of sugar
2 eggs
3 tsp of vanilla
1 tsp of cinnamon
1 box of cream cheese
2 tbsp of strawberry coulis
1 box of blueberry
1 box of raspberry
1/2 cup of powdered sugar
2 pints of vanilla ice cream
---
Tools
Parchment sheet
---
Step 1/4
Make the churros dough. Add the butter, water, and sugar to your sauce pot. Bring to a boil and then lower the heat to medium-low. Add in the flour, cinnamon, and 2 tsp of vanilla extract and stir using a wooden spoon. Continue to cook for 4 minutes. Then you will place the dough into a stand mixer with the whisk attachment. Turn on medium speed. Add your eggs 1 at a time while the mixer is on. Once mixed, set to the side to let cool. Mix your cinnamon and 2 tbsp of sugar in a small mixing bowl and set to the side.
Step 2/4
Make the cream cheese topping. Take the cream cheese, along with the remaining vanilla extract, and powdered sugar. Mix until blended. Add this to a baking tray lined with parchment paper in a circle form. Add your fruit of choice to the top along with fruit coulis. Place in the freezer. Make a vanilla ice cream disk, the same size as the cream cheese topping and place on parchment paper. Set in the freezer.
Step 3/4
First heat the oil in your large sauce pot to 360F. Take churro batter and place in zip lock bag. Cut off one corner. First squirt batter in a large circle, then form an "x" to connect the circle in the center. Make a smaller circle in the center and then with the rest of the dough, make a zig-zag pattern on the outside and inside rings. Let cook until golden brown on the bottom and then turn over to continue the cooking process. Take out of the hot oil and sprinkle with the cinnamon-sugar mixture. Set to the side.
Step 4/4
Place the churro on your serving dish. Remove ice cream from freezer and place in the center of the churro. Take your cream cheese topping and place on top. Slice up and enjoy!