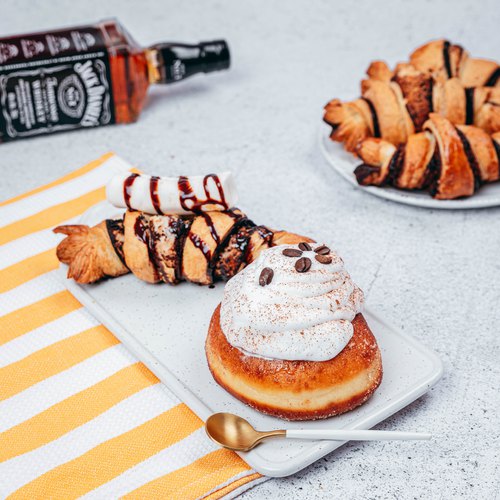 Donut Latte & Bourbon Ice Cream
Donut Latte & Bourbon Ice Cream! A beautiful & boozy dessert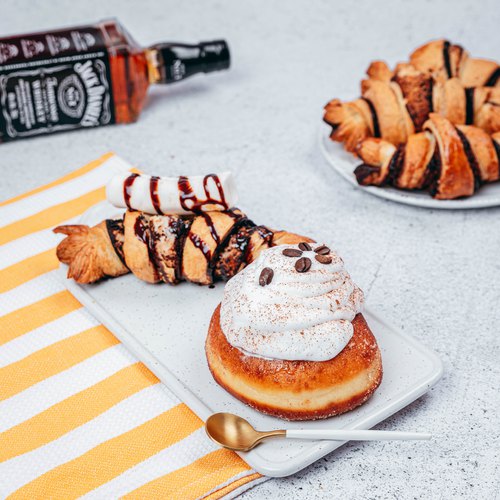 ---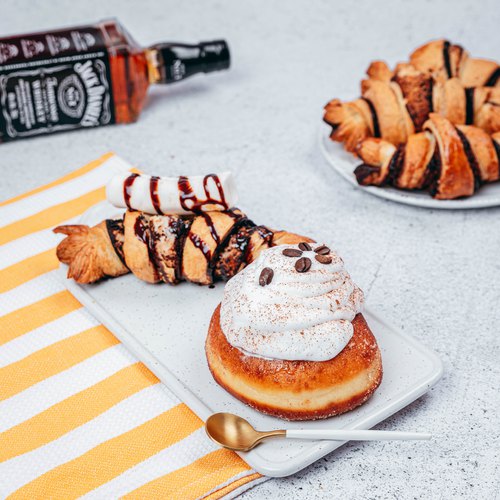 ---
Total time: 20 minutes
Prep time: 5 minutes, Cook time: 15 minutes
Ingredients for 3 people
3 donuts
1 cup of milk
1/4 cup of bourbon
7 oz of chocolate
2 puff pastries
7 tbsp of chefclub's chocolate spread
3 scoops of vanilla ice cream
1 espresso
1 3/5 cups of whipped cream
1 tbsp of cinnamon
10 coffee beans
2 tbsp of chocolate sauce
---
Tools
Pizza cutter
---
Step 1/3
Place a baking sheet over ice cubes, then pour the bourbon and milk onto the baking sheet. Mix with a spatula and allow set. Once hardened, cut into strips using a pizza cutter. Roll the strips using a spatula, then set aside in the fridge.
Step 2/3
Melt the dark chocolate and pour it over a sheet of puff pastry. Spread the chocolate with a spatula, then cover everything with a second sheet of puff pastry. Press down firmly on the edges, then cut out triangles using a pizza cutter. Stretch each triangle and roll them to form crescents. Bake for 15 minutes at 350°F.
Step 3/3
Heat donuts in the oven for a few minutes, then remove the center of the donuts. Garnish the donuts with the chocolate spread and drizzle it around the donut. Add a scoop of vanilla ice cream, place the donut under a coffee machine and pour an espresso inside. Add whipped cream on top, sprinkle with cinnamon and add a few coffee beans. Arrange a croissant and a donut on the plate, place a roll of bourbon ice cream on the croissant, add a drizzle of chocolate sauce and enjoy!