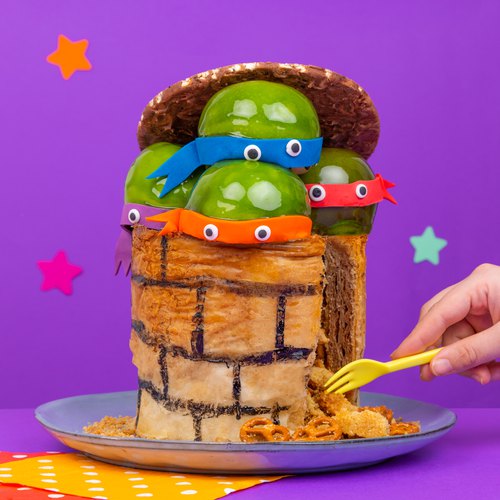 Teenage Mutant Ninja Turtles Tart
Teenage Mutant Ninja Turtles Tart! It's turtley delish' 🐢🥧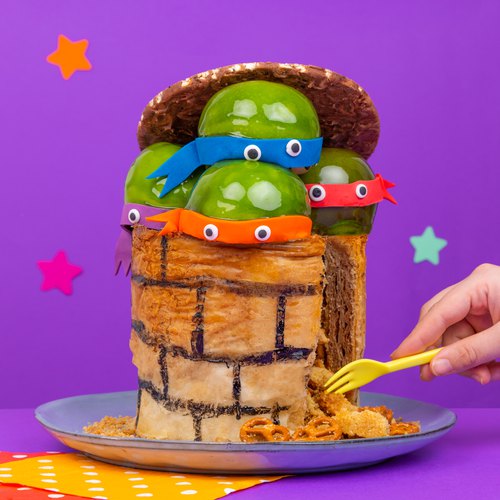 ---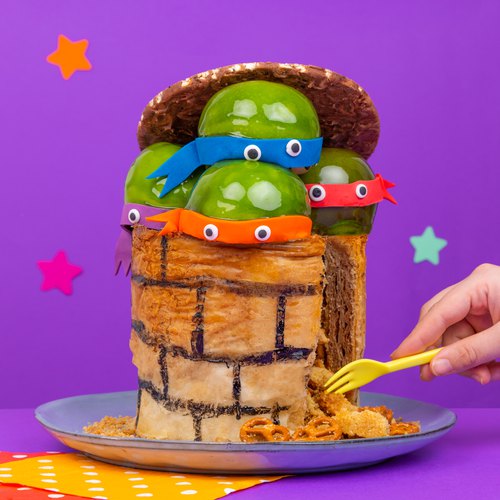 ---
Total time: 1 hour 5 minutes
Prep time: 5 minutes, Cook time: 1 hour
Ingredients for 4 people
4 green apples
Food coloring
Fondant
1/2 cup of butter
1 package of filo dough
3 1/4 cups of sugar
2 tbsp of cinnamon
5 oz of crumble
2 cups of applesauce
6 oz of pretzels
2 tbsp of milk
1 oz of pecans
1 oz of cranberries
3 tbsp of corn syrup
1 tsp of cacao powder
---
Step 1/4
Place the filo dough flat on the work surface. Brush with 0.4 cup of melted butter. Mix 1/2 cup of sugar with cinnamon and sprinkle over the butter. Wrap the dough into a tube shape and bake for 1 hour at 320°F. Once the filo dough has cooled, garnish with crumble, 5 oz of pretzels and applesauce.
Step 2/4
Remove the center of the apples. Garnish with pecans and cranberries. Melt 2 cups of sugar to make a caramel and dye it green. Coat the apples with the green caramel. Allow to set.
Step 3/4
With the fondant, create 4 different colored masks for the ninjas. Make the eyes and place the elements on the apples to decorate. Place apples on top of the filo dough. Decorate the filo dough with black food coloring to create a brick pattern.
Step 4/4
Mix the remaining sugar, milk, corn syrup, butter, cacao powder and pretzels. Cook over low heat for 10 minutes and shape into a circle. Once set, place on top of the apples. Serve and enjoy!