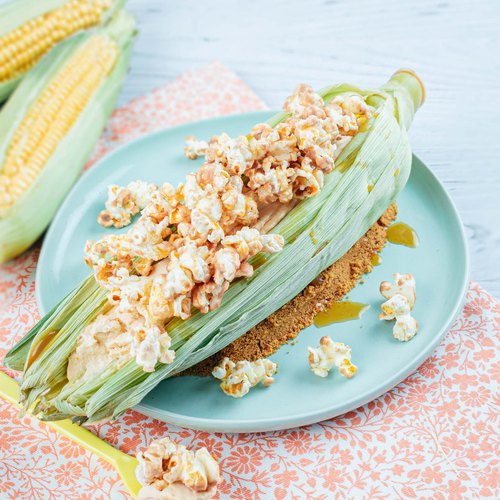 Popcorn Cheesecake
Popcorn Cheesecake! This dessert is a true pop star 🤩🌽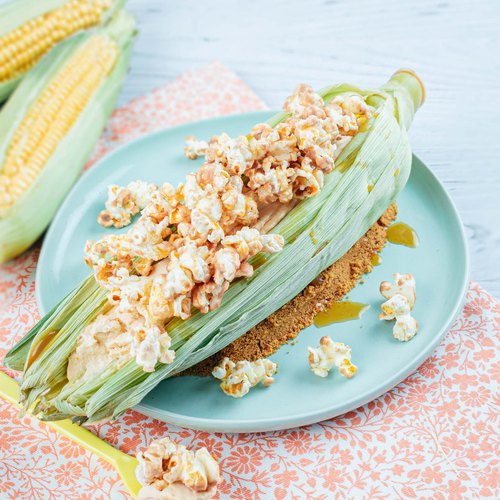 ---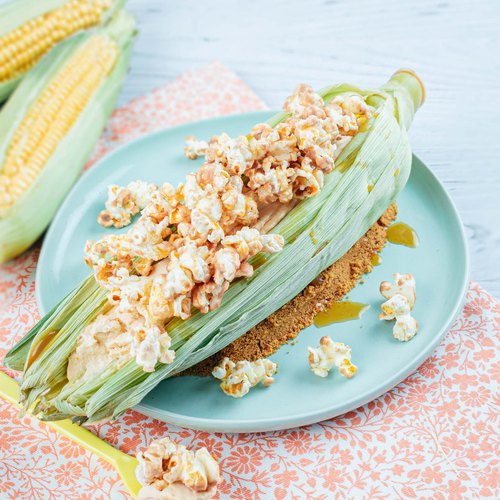 ---
Total time: 40 minutes
Prep time: 5 minutes, Cook time: 5 minutes, Rest time: 30 minutes
Ingredients for 3 people
2 cups of graham cracker crumbs
3 tbsp of butter
3 fresh corn husks
Heavy cream
Cream cheese
1/2 cup of sugar
1 cup of corn
1/4 cup of popcorn kernels
4 reese's peanut butter cups
Caramel sauce
---
Tools
Piping bag
---
Step 1/3
Mix the graham cracker crumbs with the melted butter. Place a few large spoonfuls in the center of each plate. Press down with the corncob into the graham cracker crumbs to leave an imprint. Place the plates in the refrigerator to chill. Pull back the husks on the corn leaving it attached to the cob. Cut the kernels off of one of the cobs into a small bowl. Set aside. Remove the cob from the husks but leave about 1 inch of the cob attached to the husks so that they remain attached together.
Step 2/3
Whip the heavy cream and the cream cheese together until thick and fluffy. In a small sauce pan make a caramel with the sugar. Stir in the corn kernels and stir over medium heat for one minute. Allow the corn caramel to sit for 5 minutes then fold into the cream cheese mixture. Fill each corn husk with the caramel corn cream cheese mixture and place on the graham cracker crumbs. Refrigerate for a minimum of 30 minutes.
Step 3/3
Pop the popcorn, you will need about 6 cups popped. In a small saucepan over low heat melt the reese's peanut butter cups. Drizzle the melted chocolate over the popped popcorn. Toss to combine. Top the caramel corn cheesecake with the reese's popcorn. Drizzle with caramel sauce and serve!