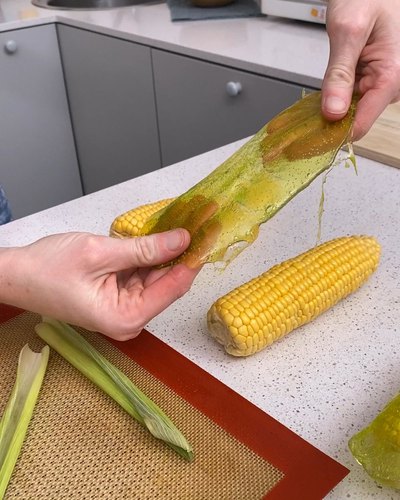 Poppin' Caramel Corn On The Cob
Poppin' Caramel Corn On The Cob! Another amaizing sweet just for you 😍🍿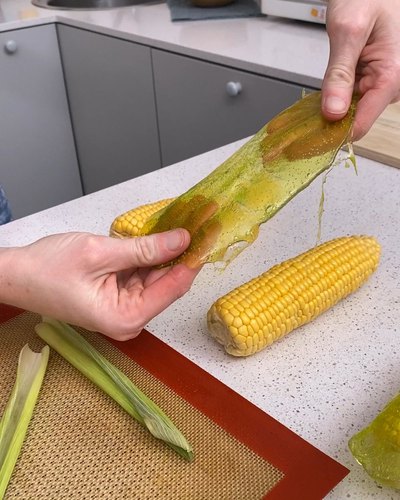 ---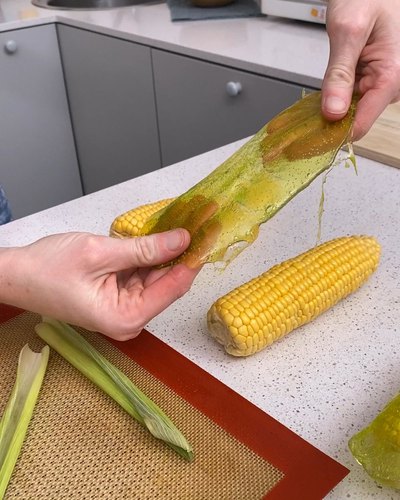 ---
Total time: 35 minutes
Cook time: 35 minutes
Ingredients for 2 people
2 popcorn corn on the cobs
Werther's caramels
Butter
Salt
Vanilla
1 corn on the cob
1 1/4 cups of flour
1/4 cup of sugar
1 1/2 tsp of baking powder
Caramel sauce
1 l of vegetable oil
---
Tools
Brown paper bag
---
Step 1/5
Preheat oven to 300°F. Prepare a deep pot with oil and heat up to 350°F. Place the fresh corn on the cob on a microwave safe plate and cook in the microwave for 8 minutes. Cut the end off of the corn and slide the corn on the cob out of the leaves. Set the husk aside.
Step 2/5
In a small bowl stir together the flour, sugar, baking powder and salt. In a larger bowl blend together the egg, buttermilk, half the corn kernels and vanilla. Stir the dry ingredients into the wet ingredients, then fold in the rest of the corn kernels. Using a cookie scoop, drop heaping spoonfuls of the corn fritter dough into the hot oil and cook until golden. Allow the fritters to rest on a cooling rack.
Step 3/5
Place the corn on the cobs in the paper bag and microwave for 2 minutes. While the popcorn is popping, melt the caramels with some butter on the griddle. Remove the popcorn cobs from the microwave and pour the popcorn into a large baking pan. Roll the corn cobs in the caramel sauce. Roll the corn cobs into the popcorn, pressing to help the popcorn adhere to the cobs.
Step 4/5
Line a baking sheet with a silicone baking mat. Spray with non-stick spray. Line up Jolly ranchers with corn leaves. Place in the oven to melt the Jolly Ranchers. Once melted, remove from the oven and wait a couple minutes. Pull the sugar and place onto the corn cobs to take the shape of the corn.
Step 5/5
Place the caramel popped corn cobs on the jolly rancher leaves. On the 3rd jolly rancher leaf, place the corn fritters. Drizzle with caramel sauce. Enjoy!