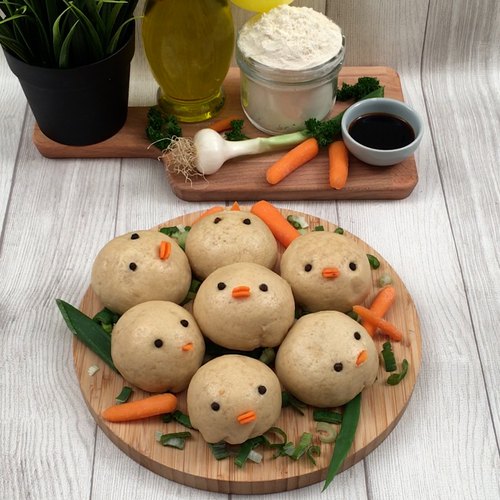 Chinese bao
The cutest little buns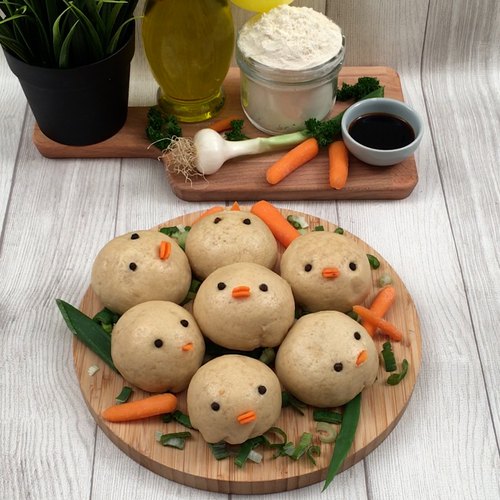 ---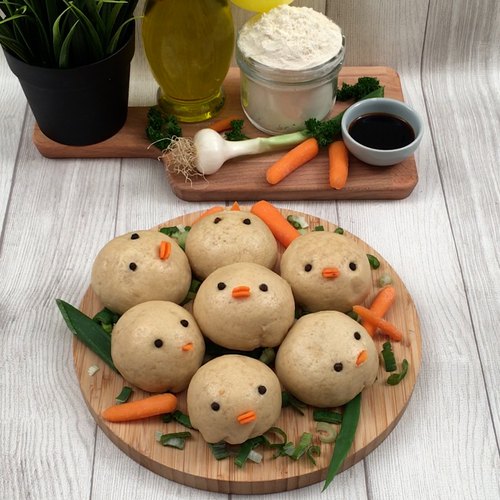 ---
Total time: 1 hour 35 minutes
Prep time: 35 minutes, Cook time: 1 hour
Ingredients for 12 people
1 tsp of yeast
3 cups of flour
14 oz of ground pork
1 tsp of sesame oil
1 tbsp of soy sauce
1 carrot
1 scallion
24 peppercorns
salt
---
Tools
Parchment sheet
---
Step 1/4
Add 1 chick of yeast into 1 pig of warm water and mix well. Add 3 chefs of flour and 1 pig of water, and knead to form a smooth, uniform dough. Cover the bowl with a kitchen towel and let rest for 1 hour.
Step 2/4
Mix 3 pigs of ground pork with 1 chick of salt, 1 hen of soy sauce, 1 chick of sesame oil, 1 mouse of diced carrot, and 1 cat of chopped scallion. Take 1 mouse of the pork mixture and roll it into a ball. Repeat 11 times.
Step 3/4
Press down on the dough to deflate it, then divide it into 12 balls. Press down on each ball with a kiddoz to flatten it into a disc. Place 1 pork ball onto each disc. Close up the dough discs around the balls.
Step 4/4
Line a metal colander with parchment paper and put 3 buns inside. Place the colander on top of a saucepan of boiling water, making sure the buns are not touching the water. Cover the colander with a pan lid and leave to steam for 10 to 15 minutes. Repeat 3 times to cook all the buns. Use a pair of tongs to take the buns out of the colander. Add a little triangle of carrot in the middle of each bun for the beak, and 2 peppercorns for eyes, then enjoy.