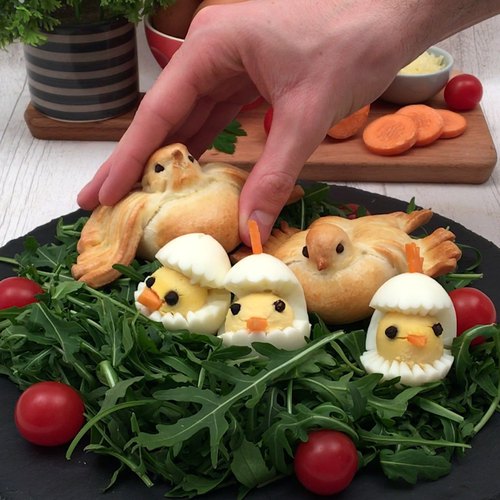 Bird's Nest
A fun, delicious recipe to do with the kids 🐣🐥😍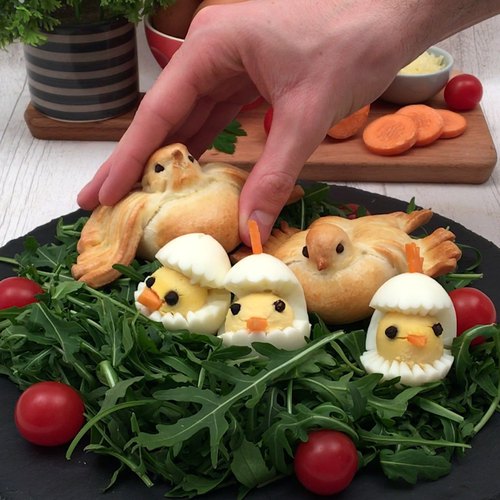 ---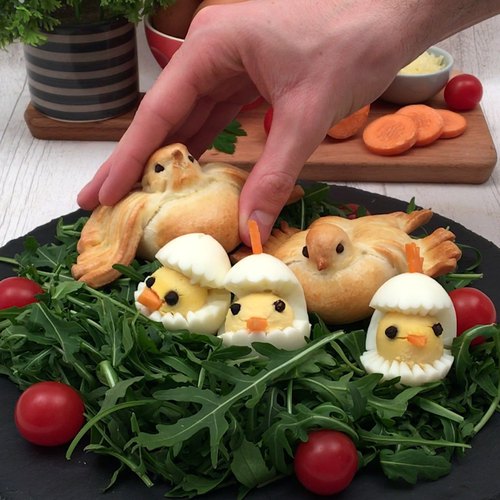 ---
Ingredients for 2 people
4 eggs
1 carrot
12 peppercorns
2/3 cup of shredded mozzarella
1 egg yolk
---
Tools
Straw
Sheet pan
Parchment paper
---
Step 1/3
Cook the eggs 10 minutes in boiling water and peel them. Cut a notch in the straw and cut the egg yolk to reveal a strip of egg yolk. Cut feathers and beaks out of the carrot and stick into the egg. Use the peppercorns for eyes.
Step 2/3
Cut the pizza dough into 2 and make 2 balls. Flatten the ball to form an oval and cut small slices on one side, leaving a band in the middle. Roll the band inward and flip dough over. Add grated mozzarella on the uncut side and roll until you reach the cuts. Then pull the edges together to create a donut shape. Flip back over, create more cuts for the tail. Squeeze the beak, add peppercorn eyes, and brush with egg wash. Repeat with other piece of dough.
Step 3/3
Place the two birds on a parchment lined baking sheet and bake for 15 minutes at 350 °F. Egg the birds and their chicks!
Similar recipes from Chefclub
-
Our other recipes