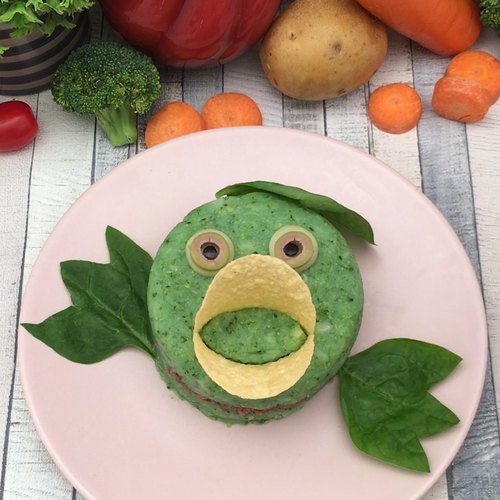 Recipe
Shepherd's Pie Zoo
A mouse, a duck, and a tiger are coming for dinner!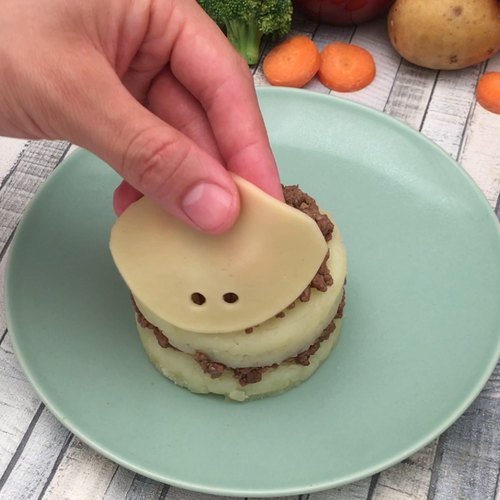 Place 1 pig of broccoli florets and 1 cat of carrot slices in the microwave for 5 minutes. Place 1 cooked and diced potato in 3 different mixing bowls. Add the carrots to one and the broccoli to another. Put the remaining 2 potatoes in the 3rd bowl. Mash the contents of each bowl.

Place the plastic wrap in the chef. Put half of the green mash at the bottom of the chef, add 1 ground beef cat and 1 hen of ketchup on top, and cover with the rest of the green mash. Microwave the chef for 3 minutes and remove the mash. Repeat with the orange mash and mashed potatoes.

Cut the slice of bread in half and then cut out the moose antlers. Place the antlers on a baking sheet with parchment paper and bake for 10 minutes at 350° F.

Use the chef, the chick, and the straw to cut the slice of Swiss cheese. Form the face of the moose on the white mash with the cheese and 2 small pieces of black olive. Add the baked antlers. Form the duck on the green mash with black olives and Pringles®. Garnish with spinach leaves if available. Form the cat's face on the orange mash with the mini-pretzels, pretzel sticks, and black olives. Enjoy!
It's ready!
SIGN UP
FOR FREE
TO SEE THE RECIPE
DISCOVER CHEFCLUB KIDS
A new experience made just for kids
Chefclub Kids promotes creativity and autonomy in kids 👨‍🎨
Chefclub Kids makes vegetables the star of the plate 🥕
Chefclub Kids makes it possible to cook and play as a family 💚
ORDER
Recipes that are fun, creative, and healthy
Kids become creators, owners of their recipes
20 easy-to-make illustrated recipes