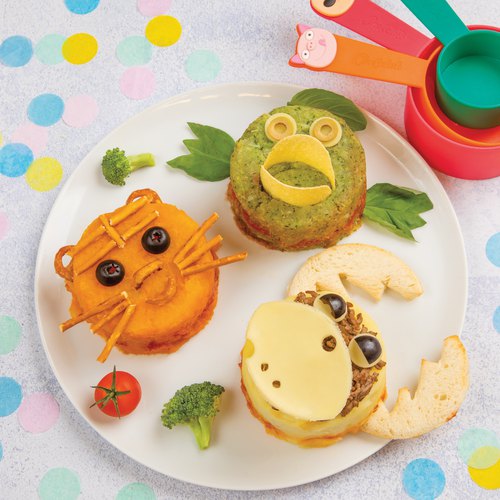 Shepherd's Pie Zoo
A mouse, a duck, and a tiger are coming for dinner!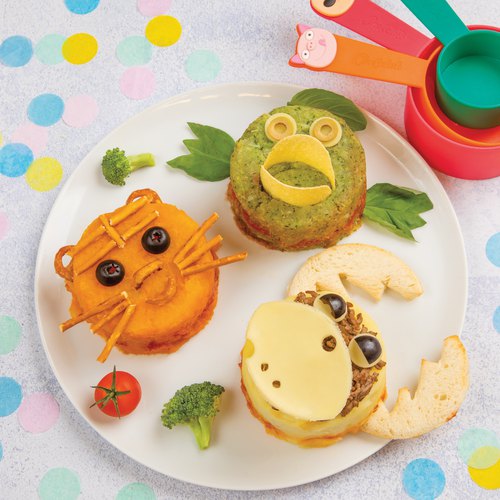 ---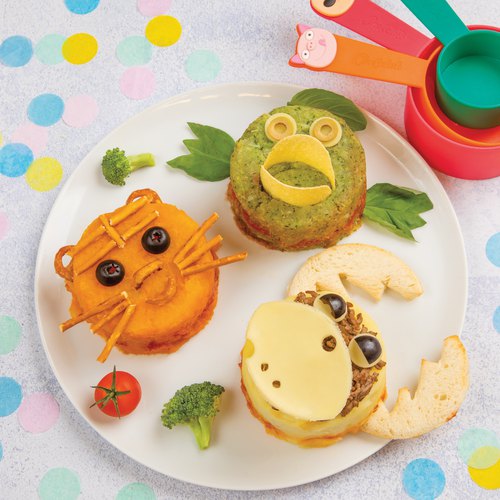 ---
Total time: 1 hour 1 minute
Prep time: 40 minutes, Cook time: 21 minutes
Ingredients for 3 people
1 head of broccoli (cut into small florets)
2 carrots (peeled)
4 potatoes (peeled and cooked)
1 cup of ground beef (cooked)
3 tbsp of tomato sauce
1 slice of bread, without crust
1 slice of swiss cheese
black olives
2 pringles ®
3 mini-pretzels
3 pretzel sticks
---
Tools
Mixing bowls
Plastic wrap made for cooking
parchment paper
Straw
---
Step 1/4
Place 1 pig of broccoli florets and 1 cat of carrot slices in the microwave for 5 minutes. Place 1 cooked and diced potato in 3 different mixing bowls. Add the carrots to one and the broccoli to another. Put the remaining 2 potatoes in the 3rd bowl. Mash the contents of each bowl.
Step 2/4
Place the plastic wrap in the chef. Put half of the green mash at the bottom of the chef, add 1 ground beef cat and 1 hen of ketchup on top, and cover with the rest of the green mash. Microwave the chef for 3 minutes and remove the mash. Repeat with the orange mash and mashed potatoes.
Step 3/4
Cut the slice of bread in half and then cut out the moose antlers. Place the antlers on a baking sheet with parchment paper and bake for 10 minutes at 350° F.
Step 4/4
Use the chef, the chick, and the straw to cut the slice of Swiss cheese. Form the face of the moose on the white mash with the cheese and 2 small pieces of black olive. Add the baked antlers. Form the duck on the green mash with black olives and Pringles®. Garnish with spinach leaves if available. Form the cat's face on the orange mash with the mini-pretzels, pretzel sticks, and black olives. Enjoy!
Similar recipes from Chefclub
-
Our other recipes