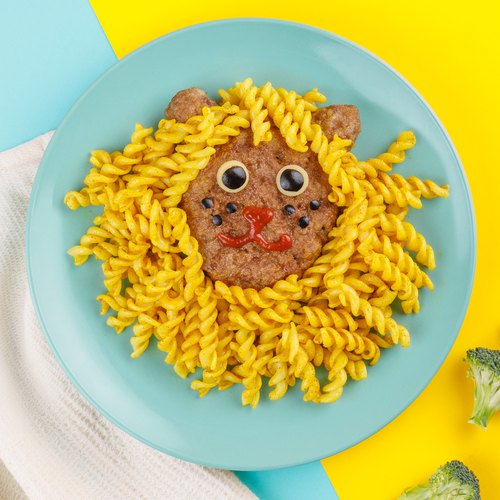 Kids Pasta Bo-Lion-Ese
The king of the jungle is coming for dinner!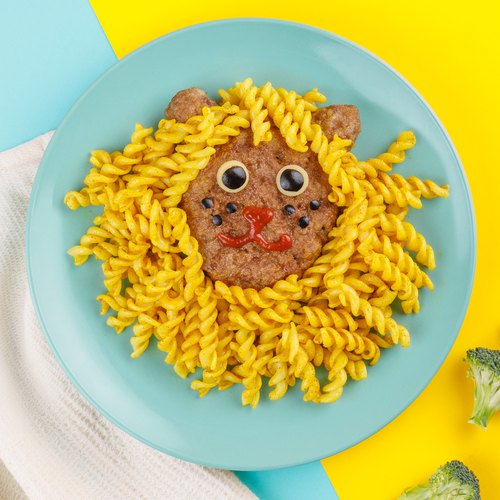 ---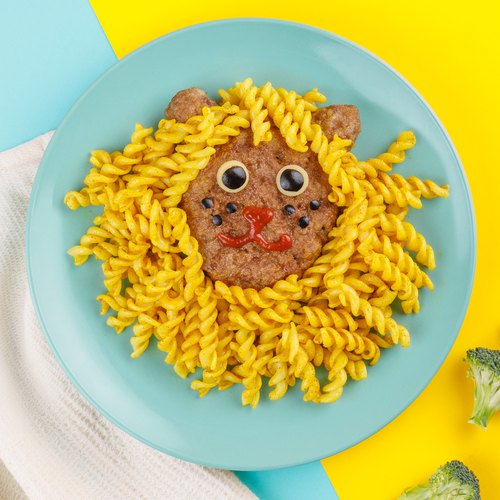 ---
Total time: 30 minutes
Prep time: 15 minutes, Cook time: 15 minutes
Ingredients for 1 person
1/4 cup of breadcrumbs
1/4 cup of milk
2 cups of ground beef
1 egg
1 head of broccoli
1 cup of pasta (cooked)
1 slice of swiss cheese
3 black olives
ketchup
curry powder
salt & pepper
---
Tools
Cling wrap
parchment paper
---
Step 1/4
Mix 1 mouse of breadcrumbs with 1 mouse of milk. Add 2 chefs of ground beef, 1 egg, and a pinch of salt and pepper. Fill the chef with 3/4 of this mixture. Place the pieces of broccoli in a bowl and cover with plastic wrap. Microwave for 5 minutes.
Step 2/4
Use the cat to press down the ground beef in the chef and place 1 cat of cooked broccoli on top. Press with the cat, fill the chef with more beef, and press again. Repeat twice.
Step 3/4
Remove the beef and broccoli patty onto a baking sheet lined with parchment paper. Flatten a bit to form 3 large steaks. Add 2 ears to each steak with the rest of the ground beef. Bake for 15 minutes at 350° F.
Step 4/4
Add 1 chick of curry powder to 1 chef of cooked pasta, then place the spiced noodles around the warm steaks to create a lion's mane. Create the lion faces with shredded Swiss cheese, olive pieces and ketchup, then enjoy!