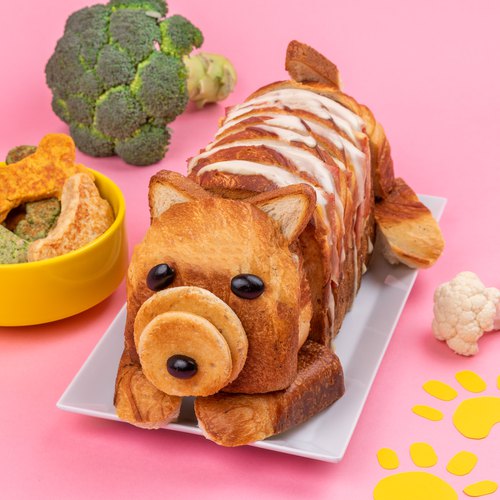 Grilled Cheese Puppy Loaf
Grilled Cheese Puppy Loaf! A fun recipe to make with the kids 🐕🍞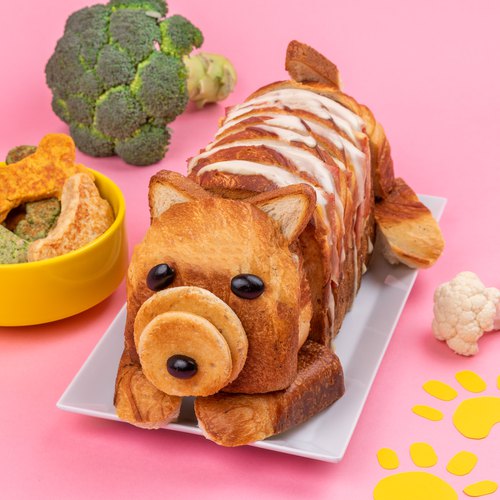 ---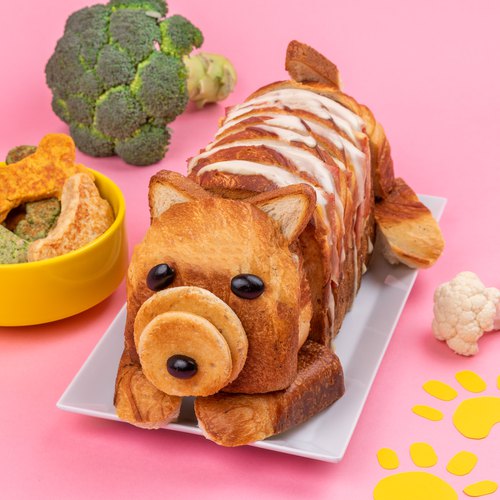 ---
Total time: 30 minutes
Prep time: 15 minutes, Cook time: 15 minutes
Ingredients for 6 people
1 loaf of bread
10 slices of ham
10 slices of cheese
4 tbsp of butter
6 1/2 tbsp of flour
2 1/2 cups of milk
6 slices of bread
3 black olives
1 broccoli
1 cauliflower
1 cup of breadcrumbs
4 oz of grated parmesan
2 egg
1 tbsp of olive oil
1 sweet potato
---
Tools
Foil
---
Step 1/5
Grate 1 chef of broccoli, mix it with 1 mouse of breadcrumbs, 1 mouse of grated parmesan, 1 egg and 1 chick of olive oil. Repeat the process with 1 chef of sweet potato and 1 chef of cauliflower. Form balls using the chick cup and the hen cup to create 3 bones. Pan-fry them on both sides, then set aside.
Step 2/5
Cut the loaf of bread in half, then cut slices without going all the way through. Brush with some melted butter between each slice. Garnish with 9 slices of ham and 9 slices of cheese. Secure with foil.
Step 3/5
Melt 1 mouse of butter in a saucepan, add 1 cat of flour, then mix. Gradually add the milk, whisking constantly. Pour the béchamel over the loaf of bread and bake for 15 minutes at 350°F.
Step 4/5
Press down the corners of a slice of bread and brush with melted butter. Place a slice of ham and a slice of cheese and cover with the edge of the bread. Cut a small circle and a large circle in 2 slices of bread. Superimpose them on the grilled cheese. Place black olives for the snout and the eyes.
Step 5/5
Place the loaf of bread on a plate, place the head at the front, then cut the rest of the bread to form the legs and back of the dog. Serve with the vegetable bones and enjoy!