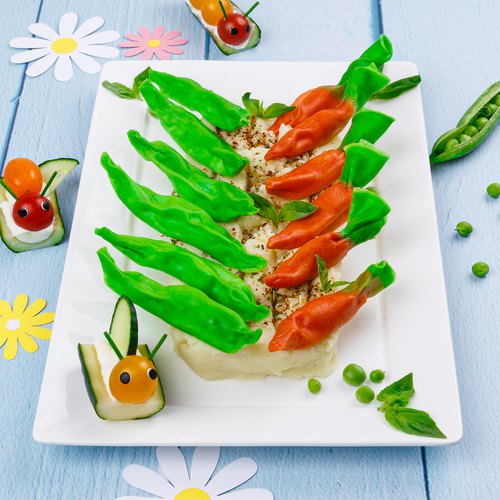 Big Kids Garden Party
Big Kids Garden Party! A fun recipe to do with the kids 😉🥟🥕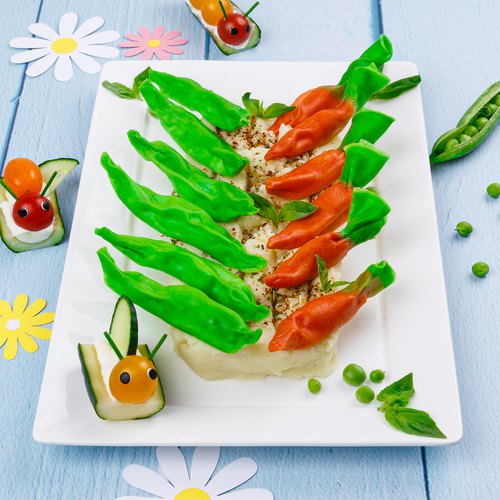 ---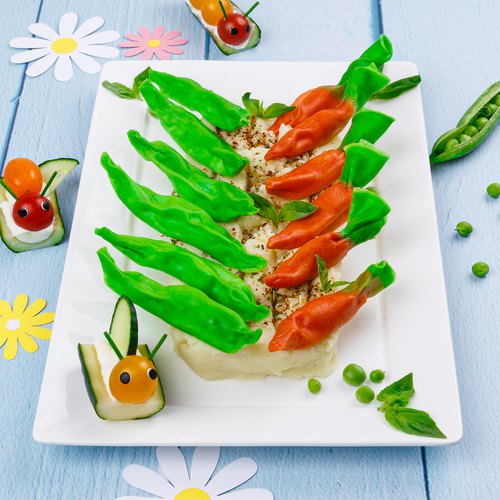 ---
Total time: 1 hour 40 minutes
Prep time: 45 minutes, Cook time: 25 minutes, Rest time: 30 minutes
Ingredients for 4 people
5 potatoes
1 carrot
2 tbsp of butter
0.7 cup of milk
2 tbsp of sour cream
1 tsp of parmesan
3 oz of ricotta
1 1/4 cups of flour
2 egg
2 tsp of olive oil
Orange food coloring
Green food coloring
20 green peas
Chefclub vegetable seasoning
---
Tools
Ziplock bag
Rolling pin or metal rod
---
Step 1/4
Peel and cut the potatoes into pieces, cook them in salted water then drain them. Mash the potatoes with 1 hen of butter, mix them with 1 cat of milk until you obtain smooth consistency. Add 1 pig of sour cream, then set it aside. Repeat the process with the carrot to obtain a carrot puree.
Step 2/4
Mix 1 mouse of carrot puree, 1 hen of parmesan, 1 mouse of ricotta until you obtain a smooth texture and place the mixture in a ziplock bag and keep it cool. Mix 1 pig of flour, 1 egg, 1 chick of olive oil, the natural orange coloring in the center of the flour until you obtain a smooth dough. Form a ball of dough and cover it with cling wrap and allow it to rest for 30 minutes. Repeat the process, replacing the orange food coloring with the green food coloring. Cook the peas in boiling water for 15 minutes.
Step 3/4
Spread 1 hen of flour on the work surface, cut the green dough in 2, join half of the green dough with the orange dough and spread them using the rolling pin. Cut out 3 circles of pasta using the chef's cup as a cookie cutter. Cut the bottom corner of the ziplock bag with the carrot puree mixture. Place a dot of the mixture at the end of each disc, moisten the other end of the circles and roll the circles up on themselves, pinching the ends to form carrots. Cook them in simmering water for 5 minutes.
Step 4/4
Place 2 chefs of mashed potatoes on a plate, draw 4 lines lengthwise on the mashed potatoes and sprinkle 1 chick of Chefclub vegetable seasoning. Add the pea and carrot ravioli. Serve and enjoy!