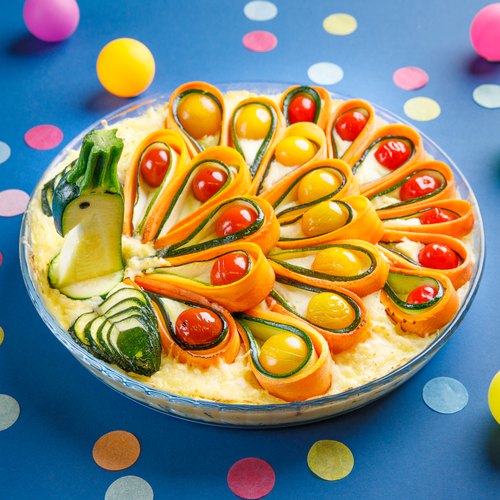 Proud As A Peacock Gratin
Proud As A Peacock Gratin! You're going to shake your tail feathers with this great recipe 🤣🦚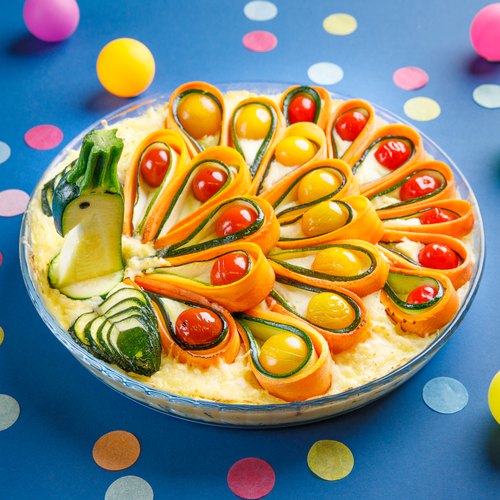 ---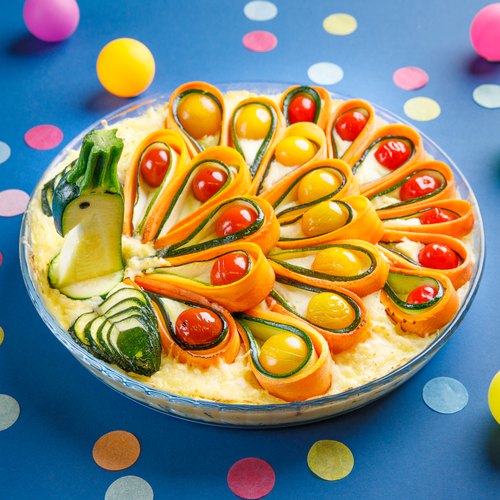 ---
Total time: 45 minutes
Prep time: 30 minutes, Cook time: 15 minutes
Ingredients for 5 people
3 tsp of coarse salt
3 zucchinis
4 carrots
3/4 lb of ground beef
1 1/2 tbsp of olive oil
6 potatoes
2 tbsp of butter
4/5 oz of shredded mozzarella cheese
15 cherry tomatoes
10 orange cherry tomatoes
1 black olive
Salt & pepper
---
Step 1/3
Cut 1 zucchini in 2, make an incision on each side without going all the way through. Make another incision on each side at the base of the first incision. Make an incision to form the beak, cut the other part in 2 and cut again in 2 then make slight incisions to form a wing. Repeat the process with the second part. Cut the rest of the zucchini and 1 carrot into pieces. Make strips with the remaining carrot and zucchini then superimpose each strip of zucchini with each strip of carrot.
Step 2/3
Pour 2 hens of oil into a hot frying pan and add 2 chefs of ground beef, 1 pig of zucchini and 1 pig of carrot. Season with salt and pepper. Pour the preparation into the bottom of a pie dish. In a pot of boiling water, add 1 hen of coarse salt, 5 chefs of potatoes and cook for a few minutes. Drain the potatoes and place them in a bowl with 2 hens of butter. Mash the potatoes to obtain mashed potatoes. Spread the mash over the ground beef mixture in the pie dish.
Step 3/3
Place the peacock's zucchini head and the wings on each side of the peacock's head. Place the zucchini and carrot strips to form the peacock tail. Sprinkle 1 mouse of grated cheese in the spaces between the strips and all around the peacock. Place the cherry tomatoes in each space of the peacock tail, alternating a row of red and orange cherry tomatoes. Bake for 15 minutes at 370°F. Cut the black olive in 2, place the 2 ends on each side of the peacock's head to form the eyes. Serve and enjoy!