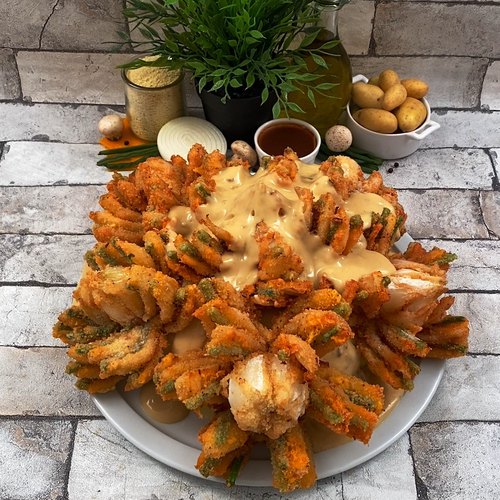 Green Bean Casserole Dome
A centerpiece of sides! 😁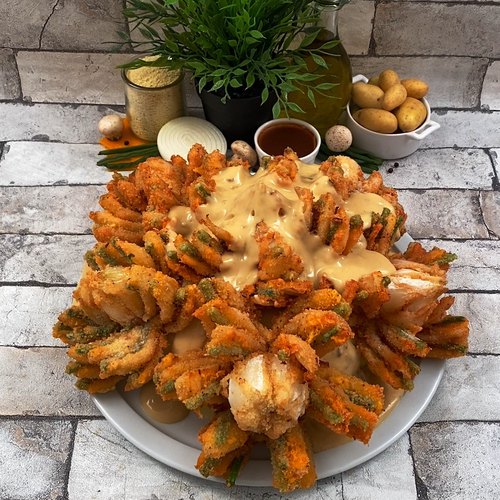 ---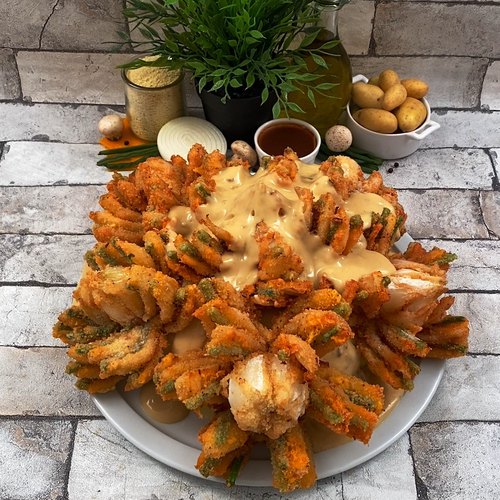 ---
Ingredients for 4 people
1/4 lb of fresh green beans
6 onions
4 eggs, beaten
flour
breadcrumbs
1 cup of fried onions
cheese slices
salt & pepper
1 1/2 cups of milk
1 1/2 stick of butter
vegetable oil
1 tbsp of worcestershire sauce
1 can of cream of mushroom soup
---
Tools
Mixing bowl
Parchment paper
Baking sheet
---
Step 1/3
Add 1 cup of milk, 1/2 stick of butter, salt, and pepper to the cooked potatoes. Fill a mixing bowl with the mashed potatoes. Place a whole stick of butter in the center of the potatoes. Turn the bowl upside down on a lined baking sheet. Bake for 30 minutes at 350 °F.
Step 2/3
Cut off the tops of the onions. Cut slits into the sides of the onions to create onion flowers. Separate the petals. Place a slice of cheese and a green bean on each onion petal. Freeze. Crush the fried onions into crumbs, then mix with breadcrumbs. Coat the onions in flour, then eggs, then the breadcrumb mixture. Fry in hot oil until golden brown.
Step 3/3
Remove the mixing bowl from the cooked mashed potatoes. Cover the potatoes with the green bean onions. Add 1/2 cup of milk, Worcestershire sauce, salt, and pepper to the cream of mushroom soup in a saucepan over medium heat. After a sauce is formed, pour over the green bean onions. Enjoy!