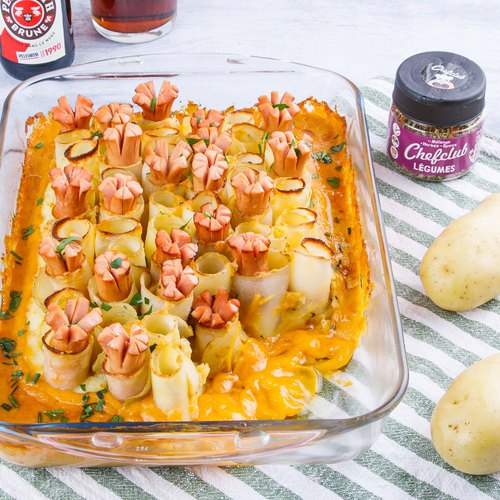 Potato & Hot Dog Casserole
Potato & Hot Dog Casserole! I mustard-mit you will relish in this recipe 🤣🥔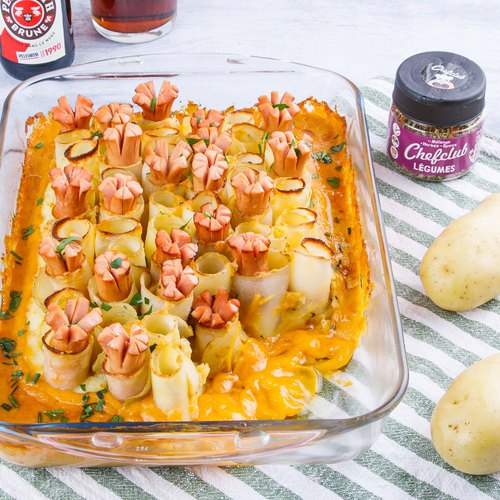 ---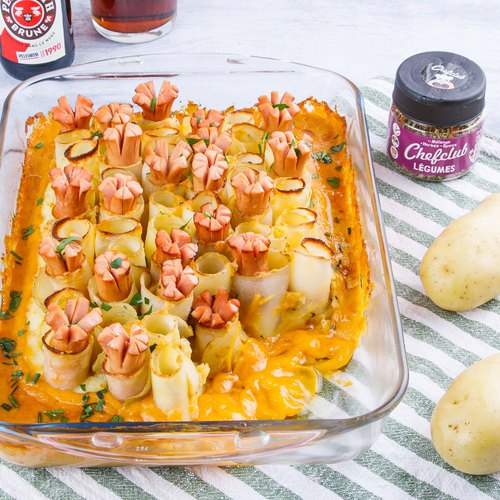 ---
Total time: 1 hour 5 minutes
Prep time: 40 minutes, Cook time: 25 minutes
Ingredients for 4 people
2.2 lbs of mashed potatoes
1 cup of butter
6 hot dogs
3 tbsp of mustard
4/5 cup of beer
Salt & pepper
3 tbsp of chefclub vegetable spice mix
6 potatoes
3/4 cup of shredded cheddar
---
Step 1/4
Cut 6 potatoes into strips and melt the butter in a saucepan. Place the potatoes in the melted butter to soften them, mix gently then place the pan off the heat for 10 minutes and drain. Cook the rest of the potatoes and mash them. Season the mashed potatoes with Chefclub vegetable spices, salt and pepper, add the remaining melted butter and mash until smooth. Place the puree in the Pyrex dish, forming a rectangle.
Step 2/4
Cut the hot dogs into 3. Slice the hot dog parts down to their halves three times, forming a star on top and cook them in a pan to obtain sausage flowers.
Step 3/4
Roll up the potato strips on themselves to obtain potato rolls and place them vertically on the mashed potatoes. Mix the mustard, beer and grated cheddar to obtain a welsh sauce, pour it over the dish. Sprinkle the potato rolls with grated cheddar and bake for 25 minutes at 350°F.
Step 4/4
Place the hot dog flowers vertically in the potato rolls, sprinkle with chives and enjoy!