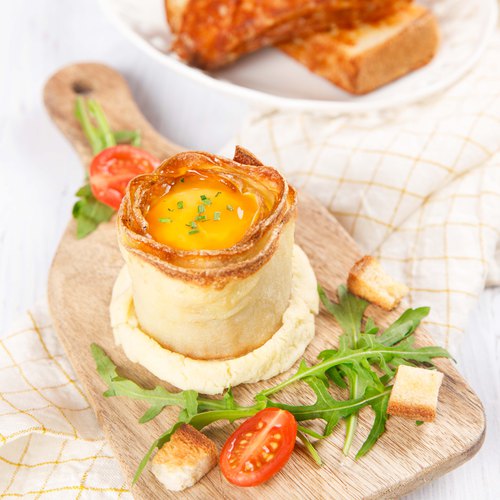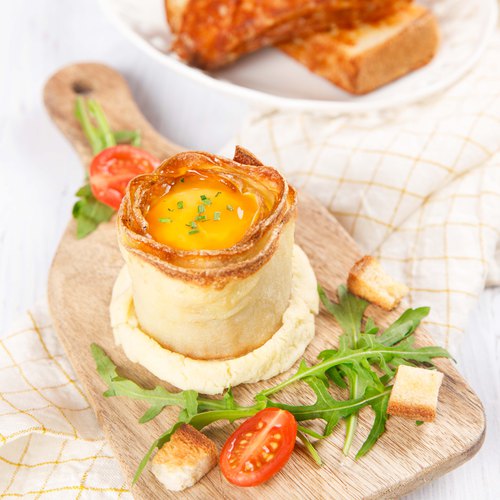 ---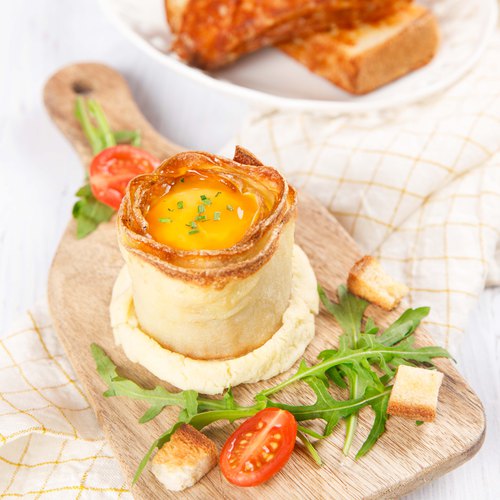 ---
Total time: 1 hour 45 minutes
Prep time: 1 hour 30 minutes, Cook time: 15 minutes
Ingredients for 3 people
6 potatoes
10 1/2 oz of shredded mozzarella
3 egg
1/2 loaf of bread
4 hot dogs
2 tbsp of butter
Chefclub vegetable spice mix
Salad
---
Tools
parchment paper
---
Step 1/3
Make 4 holes in the corners of the sandwich bread with the handle of the wooden spoon, then insert a hot dog in each of them. Cut two edges of the bread and divide the bread in two. Position the bread halves horizontally and divide them into 6 slices. Toast them on each side in a buttered pan and set them aside. Place a handful of grated cheese in the hot pan and wrap the bread inside. Repeat the process for each piece and place on a plate. Cut the remaining slices of bread into squares, pan-fry them with butter to obtain croutons.
Step 2/3
Peel the potatoes, cook 3 of them and mash them to obtain mashed potatoes. Form discs of mashed potatoes on a baking sheet covered with parchment paper using a glass. Make 3 slices with the remaining potatoes using the potato peeler, then roll them up and cut the bottom so that they can be placed. Hold the rolled potatoes with tongs and fry them in hot oil until golden brown. Drain them and place them on the discs of mashed potatoes. Insert the cheese into the fried rolls, then break the eggs and add them on top. Bake for 1 minute at 350°F.
Step 3/3
Place the salad on a plate, then add the egg and potatoes in the center, the croutons and season with Chefclub vegetable seasoning. Serve and enjoy!