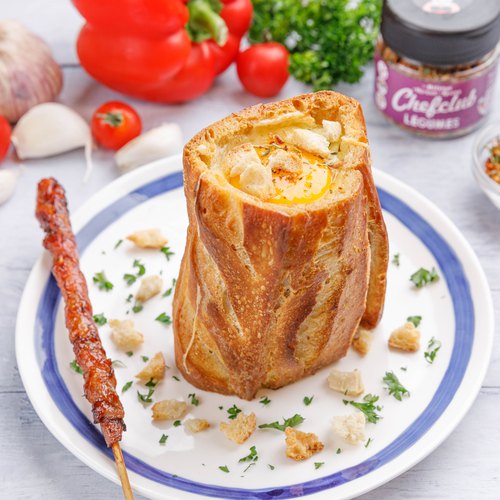 Brunch Baguettes
Brunch Baguettes! With bacon lollipops 🥖🍳🥓🤩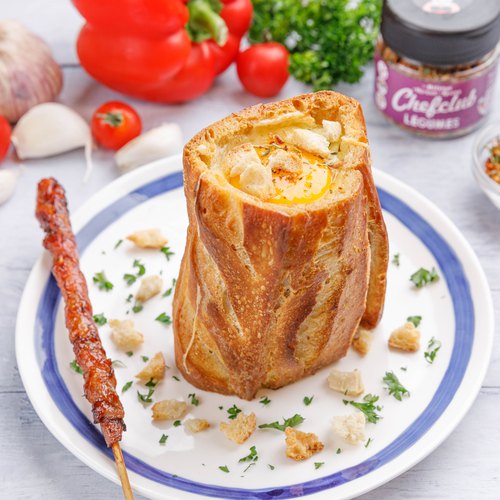 ---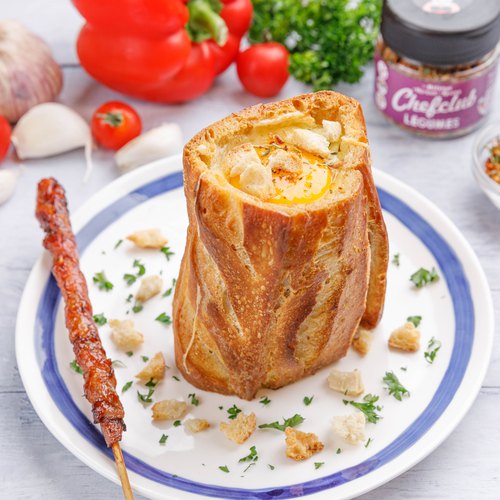 ---
Total time: 1 hour 5 minutes
Prep time: 45 minutes, Cook time: 20 minutes
Ingredients for 3 people
1 onion
1/2 zucchini
1 baguette
2 tsp of butter
6 slices of emmental cheese
6 tbsp of sour cream
3 egg
3 slices of bacon
3 tbsp of chefclub vegetable seasoning
---
Tools
Ziplock bag
Skewers
---
Step 1/3
Cut the zucchini and onion into pieces, then cook the onion in the pan. Cut the baguette in 3, crumble the rest. Fry the baguettes then place them upright in a buttered skillet over low heat. Hollow out the inside of the breads and add the slices of emmental cheese.
Step 2/3
Add the sour cream, the caramelized onions, the zucchini pieces in a ziplock bag then mix. Make an cut in the bottom corner and garnish the baguettes. Add an egg to each of the baguettes on the pan, cover the baguettes to cook the eggs.
Step 3/3
Wrap the bacon around the baguettes to form bread rolls. Bake for 20 minutes at 340°F. Remove the top of the baguettes and add 1 tbsp Chefclub vegetable seasoning. Arrange the baguettes on a plate and sprinkle the eggs with bread crumbs. Serve and enjoy!