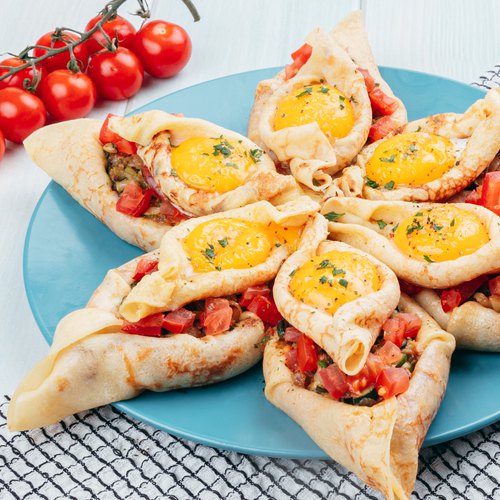 Tray Of Bloomin' Crepes
Tray Of Bloomin' Crepes! You will love this recipe a little, a lot, passionately 😘🌼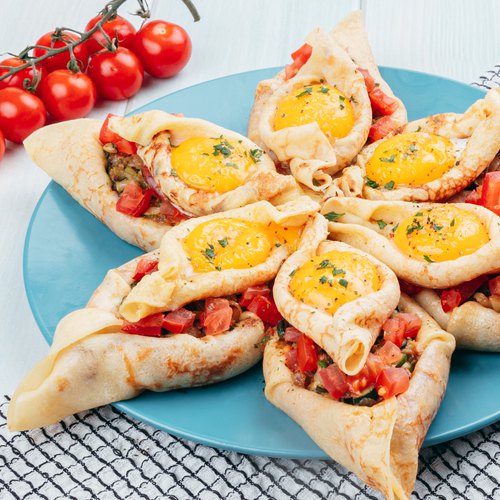 ---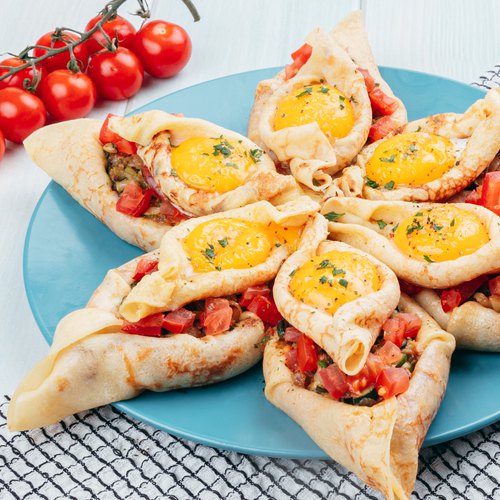 ---
Total time: 1 hour 20 minutes
Prep time: 1 hour , Cook time: 20 minutes
Ingredients for 6 people
Crepe batter
6 hot dogs
1 tsp of butter
4 zucchinis
Olive oil
Salt & pepper
2 onions
Sunflower oil
6 egg
Parsley
Tomatoes
Chefclub egg spice mix
---
Tools
Toothpicks
---
Step 1/3
Make the crepe batter and cook to obtain 8 crepes. Place 6 small glasses on a pan to form a circle, cut the hot dogs in half lengthwise, leaving the ends attached, then place them around each glass to form pockets. Add butter and cook them on each side. Wrap each hot dog pocket with a crepe before placing them on a plate to form a flower. Peel and cut the onions and zucchinis into small pieces, cook them in a pan with a little sunflower oil before filling the crepe pockets.
Step 2/3
With a bowl cut out 6 crepe circles. Form pockets with the crepes and close the ends with toothpicks. Place the crepes in a pan with a drizzle of oil and add an egg yolk to each pocket. Season with salt and pepper and allow to cook for a few minutes.
Step 3/3
Cut the tomatoes into small pieces and add them to the vegetable crepe pockets. Place the egg crepe pockets on top and remove the toothpicks. Season with parsley and Chefclub egg seasoning. Serve and enjoy!