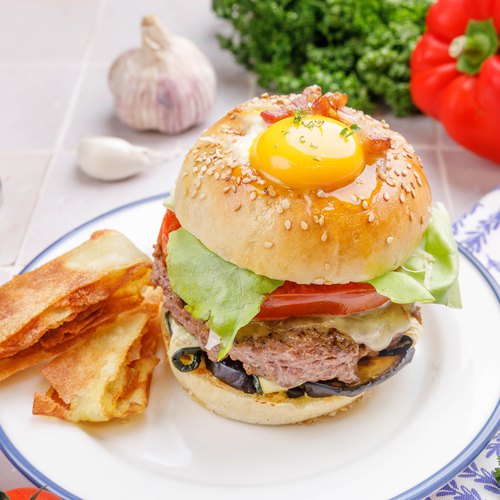 On Top Burger
On Top Burger! Egg, meat, veggies- it's a real balanced meal! 🍔🧀🍳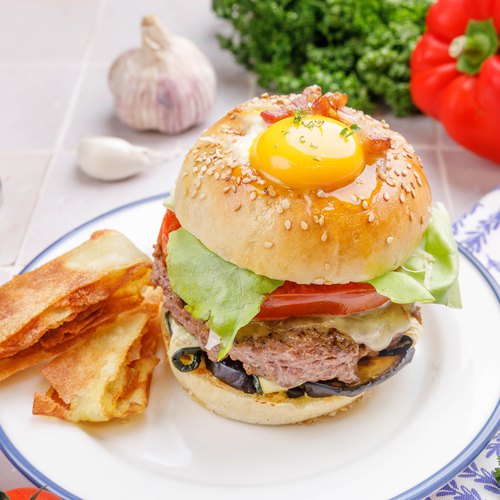 ---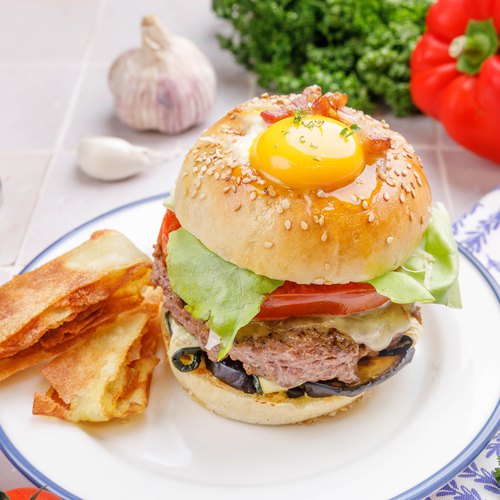 ---
Total time: 50 minutes
Prep time: 30 minutes, Cook time: 20 minutes
Ingredients for 3 people
1 onion
2 tbsp of bacon bits
3 hamburger buns
0.4 cup of sour cream
3 egg yolks
Comté cheese
0.9 lb of ground beef
2 tbsp of chefclub bbq spice mix
5 potatoes
3 tsp of mayonnaise
1 eggplant
1 zucchini
1 tomato
Frying oil
Salad
---
Step 1/4
Cut the onion into pieces then brown it with the bacon in a pan. Arrange the burger buns, separating the bottom caps, on a baking sheet. Form a hole in the center of each top bun with a small glass then garnish with a tablespoon of sour cream, egg yolks and a tablespoon of grilled onions and bacon. Sprinkle with grated cheese and bake for 5 minutes at 350°F. .
Step 2/4
Mix the ground beef with the Chefclub BBQ spices then place ⅓ of the ground beef in a round tray, flatten it with the second tray to form a patty. Repeat the process to obtain 3 then cook them on both sides in a hot pan. Sprinkle the rest of the grated cheese over the patties and allow to melt.
Step 3/4
Cut the potatoes into thin strips, wrap the strips around a spatula then fry them in hot oil to obtain crispy chips. Cut the eggplant into slices and the zucchini into strips, then brown them in a pan.
Step 4/4
Spread the mayonnaise on the burger bun, place the eggplant slices and the zucchini strips, a patty, a tomato slice, a few lettuce leaves then cover with the top buns. Serve with potato chips and enjoy!