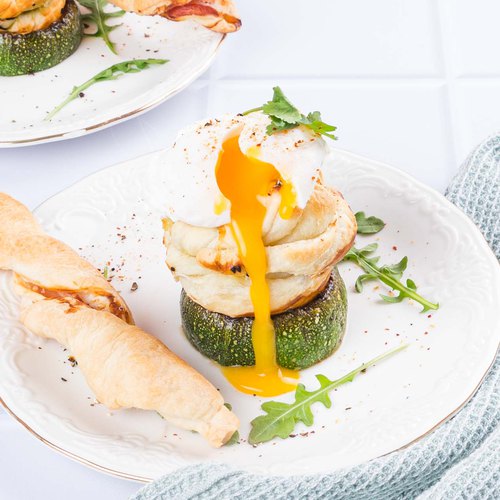 Poached Eggs & Bacon
Poached Eggs & Bacon! With delicious zucchini 😋🥓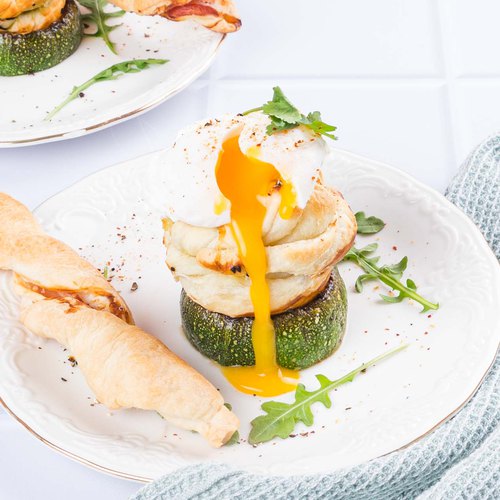 ---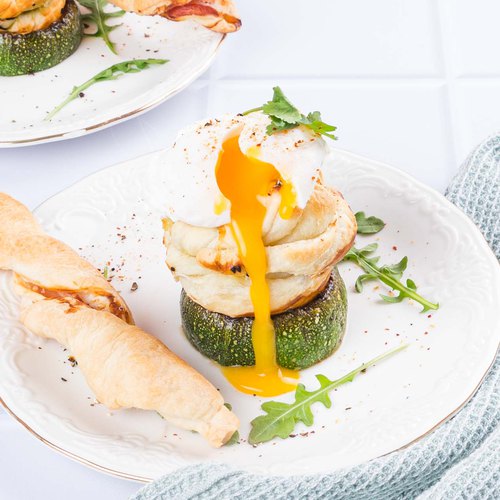 ---
Total time: 1 hour 3 minutes
Prep time: 35 minutes, Cook time: 28 minutes
Ingredients for 3 people
1 puff pastry
3 slices of smoked bacon
1 zucchini
1 egg yolks
3 pinches of black sesame seeds
3 egg
3 round zucchinis
1 tbsp of olive oil
1 tbsp of butter
1 pinch of salt
3 onions
4 tbsp of brown sugar
1 tbsp of red wine vinegar
3 1/2 tbsp of pesto
3 pinches of pepper
3 pinches of espelette pepper
3 leaves of coriander
---
Tools
Egg carton
parchment paper
Aluminum foil
---
Step 1/3
Cut 3 thin slices of zucchini. Place the slices of smoked bacon and zucchini on the puff pastry, alternating them. Cut the puff pastry into strips, roll the strips up on themselves with the smoked bacon lengthwise and place them on a baking tray lined with parchment paper. Cover the empty egg carton with aluminum foil. Roll zucchini strips on themselves lengthwise, then wrap them around the tops of the empty egg carton. Brush the zucchini puff pastries with egg yolk, sprinkle with black sesame seeds and bake for 20 minutes at 350°F.
Step 2/3
Heat water and form a whirlpool with a spoon. When the water is simmering, cook the egg for 2 minutes and 30 seconds. Repeat the process to have 3 poached eggs. Cut the ends of the round zucchini and hollow out the center of the round zucchini slices. Cook the slices in a hot pan with a drizzle of olive oil and the butter. Season with salt.
Step 3/3
Cut the onions into pieces and cook them in a hot pan with the brown sugar and the wine vinegar to caramelize them. Arrange the zucchini slices in the center of a plate and arrange the zucchini puff pastries on top. Add the pesto, caramelized onions and poached egg. Season with pepper and Espelette pepper. Add the cilantro, place the smoked bacon puff pastries and enjoy!