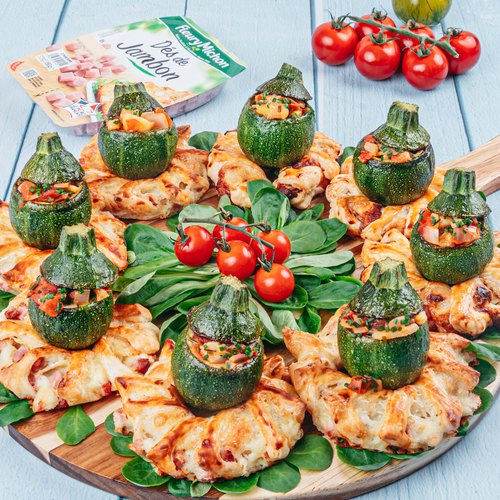 Goat Cheese & Stuffed Zucchini
Goat Cheese & Stuffed Zucchini! So baaad, it's good 😆🥒🐐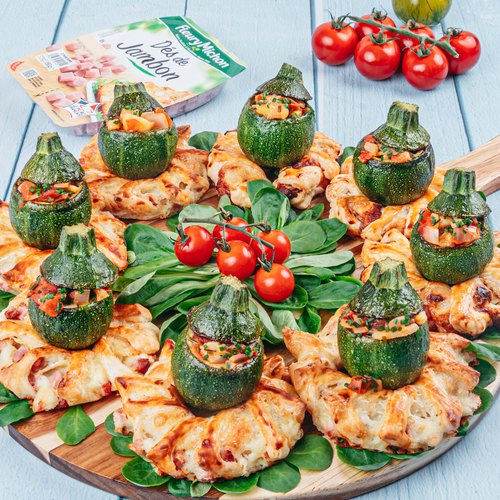 ---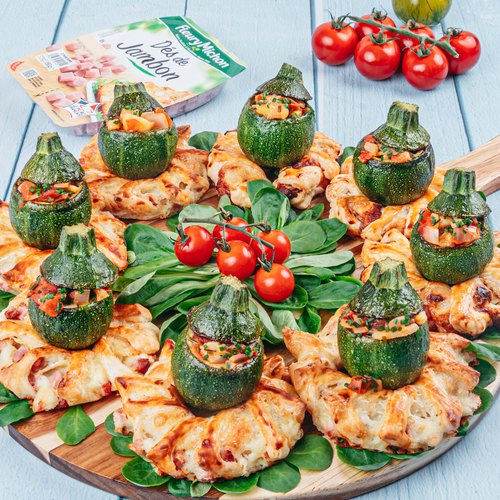 ---
Total time: 1 hour 15 minutes
Prep time: 35 minutes, Cook time: 40 minutes
Ingredients for 6 people
2 puff pastries
7 oz of goat cheese
3 1/2 oz of ham
1 tbsp of honey
2 egg yolks
8 round zucchinis
3 1/2 oz of emmental cheese
4 tbsp of olive oil
1 pinch of pepper
2 tomatoes
Chives
---
Tools
parchment paper
---
Step 1/3
Weld the puff pastry together. Cut the goat cheese into strips, place them halfway and at the ends of the puff pastry. Place a row of diced ham in front of each strip of goat cheese, sprinkle with honey, cut the puff pastry to form squares and roll the puff pastry to form a roll. Repeat the process with each part of puff pastry. Cut several incisions in the puff pastry rolls without going all the wray through and form a ring. Repeat the process with each roll. Place the rings of puff pastry on a baking tray lined with parchment paper, brush them with egg yolks and bake for 20 minutes at 350°F.
Step 2/3
Cut the top of round zucchini and remove the flesh inside. Garnish them with the emmental cheese and the diced ham. Place them upside down on a baking sheet, arrange the caps. Drizzle with olive oil, season with pepper and bake for 20 minutes at 350°F. Cut the tomatoes, the onion into pieces and cook them with the flesh of the zucchini in an oiled frying pan.
Step 3/3
Garnish the zucchini with the mixture of cooked vegetables, sprinkle with chives and place the top of the zucchini on top. Arrange the zucchinis in the center of the puff pastry rings. Serve and enjoy!