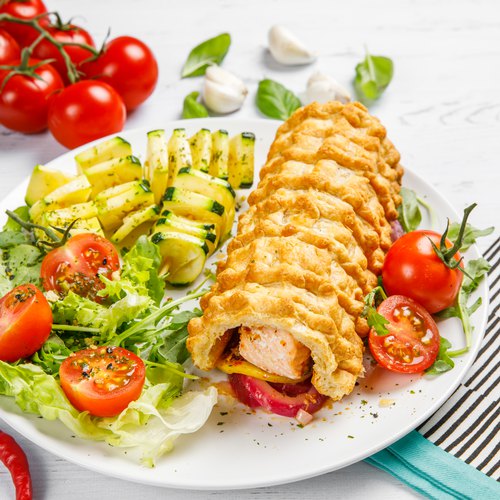 Baked Salmon with Garlic & Herbs
Baked Salmon with Garlic & Herbs! Tender, flaky, and bursting with flavor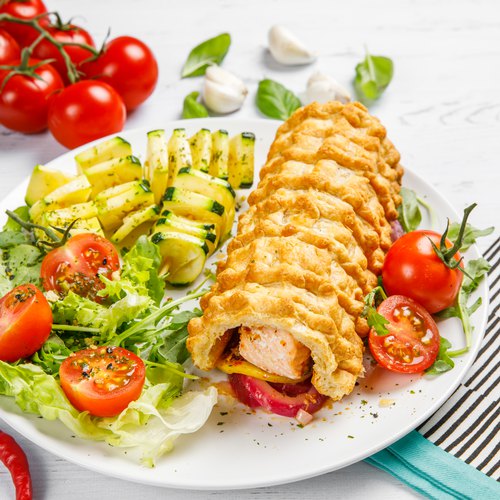 ---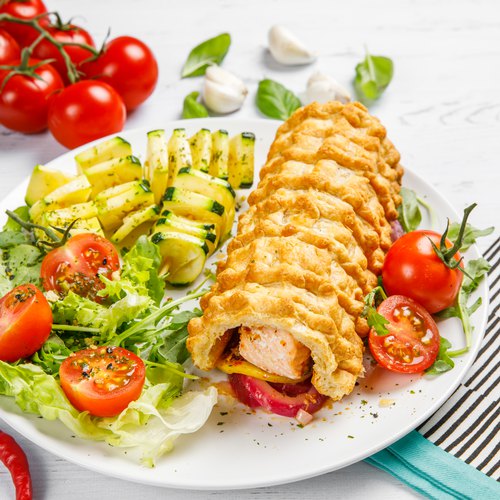 ---
Total time: 3 hours 15 minutes
Prep time: 45 minutes, Cook time: 30 minutes, Rest time: 2 hours
Ingredients for 3 people
3/5 cup of olive oil
1 lemon
1 red onion
2 shallot
3 salmon fillets
4 cloves garlic
4 tbsp of spices
1 puff pastry
2 zucchinis
1 cup of rice
Rosemary
Thyme
Salt & pepper
Lemon juice
Chives
---
Tools
Ziplock bag
parchment paper
Aluminum foil
Rolling pin or metal rod
---
Step 1/4
Slice the lemon, red onion, and shallots into rounds. Place 3 Ziplock bags in 3 glasses, add thyme, rosemary, a drizzle of olive oil, lemon, red onion, and shallot to each freezer bag. Place the salmon fillets in each bag, seal the Ziplock bags, and let marinate for 2 hours.
Step 2/4
Slice the zucchinis, place them on a baking sheet lined with parchment paper, drizzle with olive oil, sprinkle with spices, and bake for 10 minutes at 340°F. Pour the contents of a Ziplock bag onto a sheet of aluminum foil lined with parchment paper, place the garlic cloves on the salmon, season with salt and pepper, sprinkle with spices for vegetables, then fold the aluminum foil to form a packet. Repeat this process two more times.
Step 3/4
Wrap the puff pastry around a rolling pin, pinch the pastry with a tongs to form a pattern, then place the pastry and the packets on a baking sheet lined with parchment paper. Bake for 20 minutes at 340°F.
Step 4/4
Prepare the rice by cooking it in 1 liter of boiling water. Once cooked, create a dome-shaped portion of rice on each plate and then add the salmon on top. Add a sprinkle of chives over the rice and pour some lemon juice over the salmon fillets. Divide the puff pastry into 3 portions and place one portion on each salmon fillet. Finally, add the courgettes to the plate and enjoy!