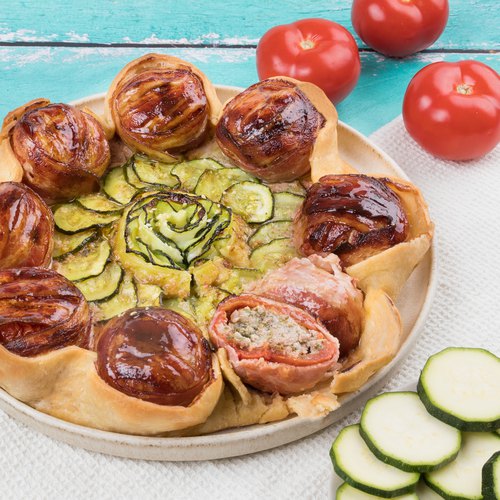 Tomato & Zucchini Stuffed Tart
Tomato & Zucchini Stuffed Tart! This recipe is tomatolly awesome 😚🍅🥧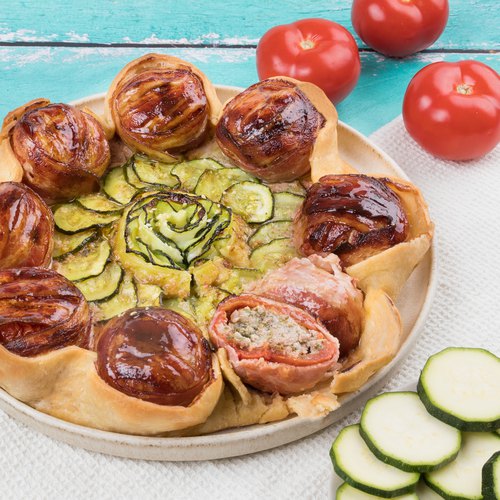 ---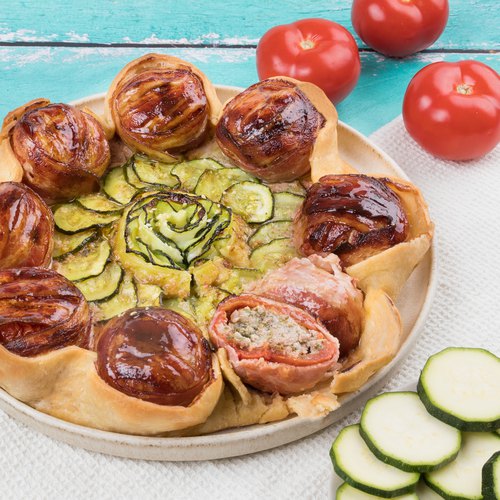 ---
Total time: 2 hours 15 minutes
Prep time: 45 minutes, Cook time: 1 hour 30 minutes
Ingredients for 7 people
1 onion
1 clove garlic
Parsley
Chives
3/5 lb of ground beef
7 tomatoes
28 slices of bacon
3 zucchinis
1 puff pastry
2 tbsp of tomato sauce
---
Step 1/3
Cut the onion, garlic, parsley, chives into small pieces, mix them with the ground beef until you obtain a stuffing. Cut the cap off the tomatoes, remove the flesh from the tomatoes, garnish them with the stuffing and put the cap on. Wrap the stuffed tomatoes in bacon, place the tomatoes on a baking tray lined with baking paper and bake for 60 minutes at 350°F.
Step 2/3
Heat water. Cut the zucchini into 4 thin strips then the rest into slices, plunge them for 1 minute in boiling water and arrange the strips on top of each other, overlapping their ends. Place the zucchini slices on the end of the strips, fold the strips over the zucchini slices and roll them up to form a zucchini flower.
Step 3/3
Place the puff pastry in the buttered pie pan, place the cups at the ends of the pastry. Fold the outline of the puff pastry over the cups, spread the tomato sauce in the center of the pastry, place the zucchini flower in the center and bake for 30 minutes at 350°F. Remove the cups, place the stuffed tomatoes and enjoy!