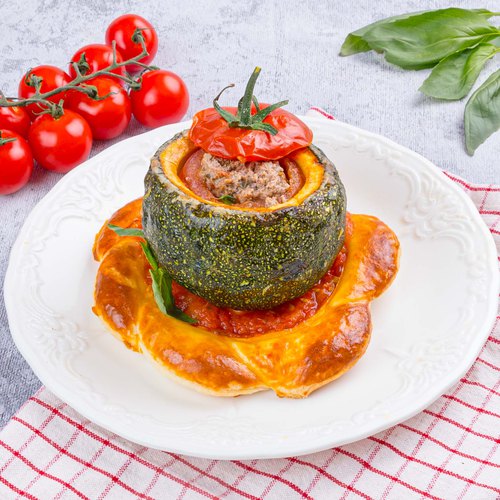 Spring Stuffed Vegetables
Spring Stuffed Vegetables! And their flowery tarts 😘🌼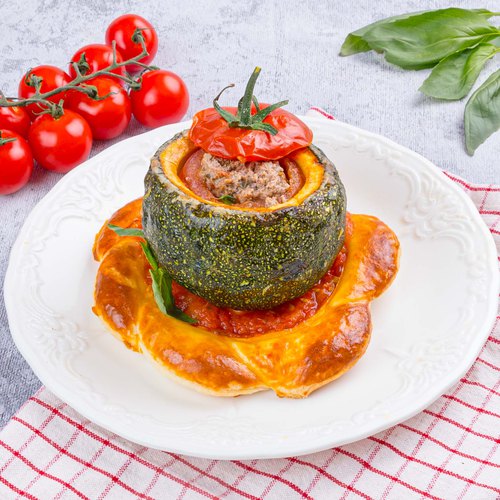 ---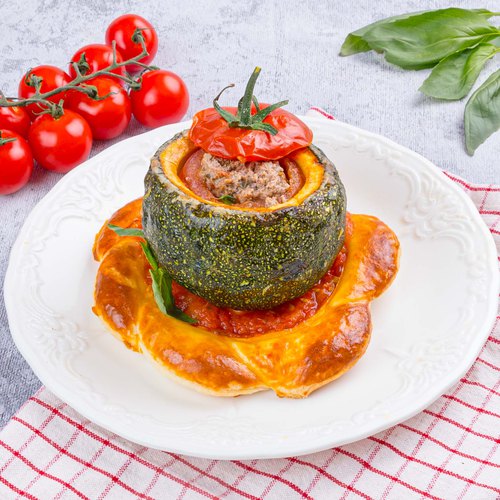 ---
Total time: 1 hour
Prep time: 35 minutes, Cook time: 25 minutes
Ingredients for 3 people
3 round zucchinis
1 puff pastry
0.4 cup of tomato sauce
1 egg yolk
3 tomatoes
4 oz of ground beef
0.3 oz of parmesan
2 tbsp of breadcrumbs
1 tbsp of chefclub bbq spice mix
1 bouillon cube
3 basil leaves
---
Step 1/3
Cut the top off the round zucchini and hollow out the inside of the zucchini. Cut out circles of puff pastry using a slice of zucchini as a cookie cutter. Pour the tomato sauce into the zucchini, arrange the circles of puff pastry on the ouside and in the center of the zucchini. Place the zucchini with the puff pastry upside down on a baking sheet. Brush the puff pastry with egg yolk and bake for 20 minutes at 350°F.
Step 2/3
Cut the tops off the tomatoes and scoop out the insides of the tomatoes. Mix ground beef, parmesan, breadcrumbs, remaining zucchini and remaining tomato. Season with Chefclub bbq spices. Add the stuffing to the tomatoes. Heat up some water in a saucepan with a cube of bouillon. Cook the stuffed tomatoes with the caps in the vegetable broth for 5 minutes with the lid on.
Step 3/3
Turn the zucchini over the puff pastry flower. Place the stuffed tomatoes in the zucchini and put the zucchini caps back on. Sprinkle with basil leaves and enjoy!